Xiaomi Mi TV 5 Pro and Mi TV 5 Launched with 4K displays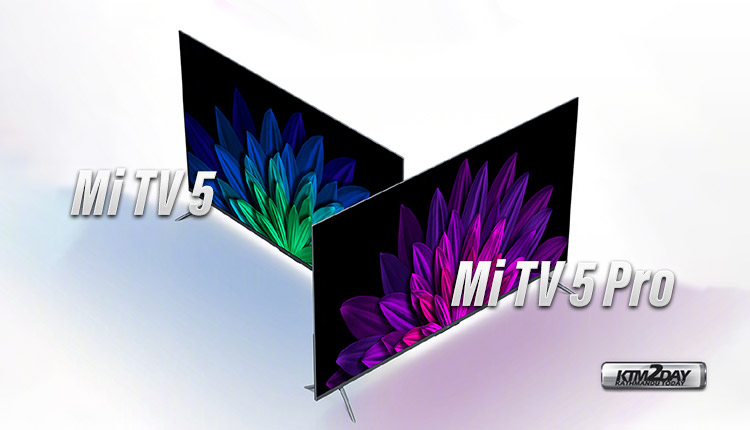 Xiaomi has just introduced a line of smart TVs Xiaomi Mi TV 5 and Mi TV 5 Pro in China, which includes six models. During an event held in China, the brand delighted fans by introducing its new Smart TV, which features  impossible thin design and comes at a price of a mid-range smartphone.
Nevertheless, as expected, buyers will be offered only three diagonals. Xiaomi has launched two variants of Mi TV 5 in Pro and Basic variant just like its smartphones.
The Xiaomi Mi TV 5 Pro and Mi TV 5 will be available in three screen sizes – 55-inch, 65-inch and 75-inch.
The Mi TV 5
The main difference between Xiaomi Mi TV 5 and Mi TV 5 Pro will be the technology of quantum dots, which is used only in Xiaomi Mi TV 5 Pro. The resolution of all TV models is 4K, there is support for HDR10 +.
In terms of design, both Mi TV 5 and Mi TV 5 Pro sport an aluminium frame and come with a screw-less design. The company notes that both TVs are just 5.9mm thick and the bezels are 47.1 percent thinner than the Mi TV 4 series at just 1.8mm.
Lastly, the Mi TV 5 has 3GB of RAM and 32GB of onboard storage, whereas Mi TV 5 Pro comes with 4GB of RAM and 64GB of onboard storage.
Mi TV 5 Pro
The design of the new Xiaomi television is truly impressive. Besides having almost nonexistent bezels(1.8mm), it is also extremely thin at only 5.9mm !
The brand has achieved a premium design that will surely "scare" the competition. When combined with state-of-the-art specifications and attractive pricing, this design can become one of the biggest selling points of the new Mi TV 5 Pro.
The Mi TV 5 Pro lineup comes with a Quantum Dot or QLED display panel and it supports HDR10+. There is also support for MEMC motion compensation and 8K decoding.
Xiaomi claims that the panel covers 108 percent of the NTSC color gamut. Powered by a 12nm Amlogic T972 chipset, Xiaomi claims the new series is 63 percent faster than the previous generation CPU.
It also comes with 4GB of RAM and 64GB of internal storage. The Mi TV 5 Pro from Xiaomi runs PatchWall UI and features support for Dolby Audio and DTS HD sound.
Xiaomi Mi TV 5 Pro specifications
Quantum Dot QLED panel, supporting 108% of NTSC color gamut
Support for HDR10 +, MEMC and '8K ready'
Amlogic T972 Processor (12nm)
4GB RAM
64GB internal memory
Support for Dolby Atmos and DTS HD sound
Xiaomi PatchWall Interface
It is important to highlight that the processor present in the new Xiaomi Smart TV was developed through the direct partnership between Xiaomi and Amlogic. In addition to supporting 8K content playback, it guarantees 68% better performance than its predecessor, which is impressive.
Pricing and Availability
Once again, there is no information about a possible arrival of Xiaomi Mi TV 5 Pro in markets outside China at the time of launch.
As such, it is possible that the three models may be unique to the Chinese market during this early stage, and may be eventually available in other Asian markets at a later stage.
When it comes to its price, the Xiaomi Mi TV 5 Pro is guaranteed to stand up to the big brands in the premium segment of Smart TVs:
Xiaomi Mi TV 5 Price
55 inches – $425
65 inches – $570
75 inches – $1,140
Xiaomi Mi TV 5 Pro Price
55 inches – $525
65 inches – $ 710
75 inches – $ 1,425