5th Nepal Buildcon International Expo from 8-10 Feb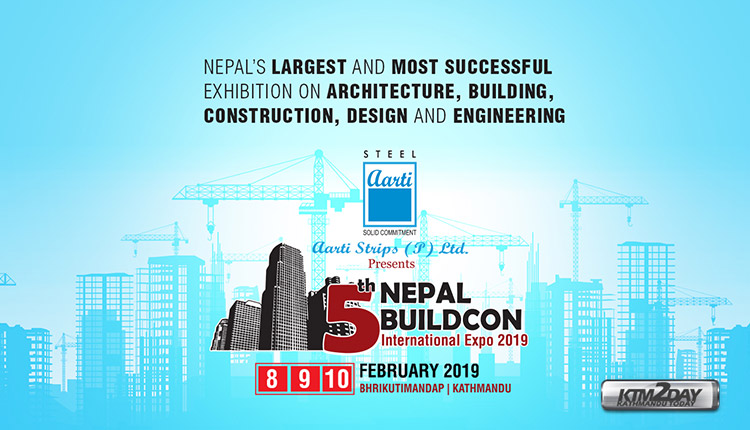 The 5th edition of Nepal Buildcon International Expo is set to kick off on Friday at Bhrikuti Mandap, Kathmandu with over 150 multinational companies showcasing more than 300 brands and products from across the globe.
The three-day expo organised by Media Space Solutions in collaboration with Futurex Trade Fair and Events (India)—one of the leading trade fair organisers in the SAARC region—will promote modern architecture, buildings, construction, design and engineering, the organisers said in a press statement.
The expo will also be concurrently hosting the Nepal Construction Machinery and Heavy Equipment International Expo which will showcase construction equipment and heavy equipment from over 30 companies from Nepal and abroad, it said. The International Exhibition is supported Nepal Engineering Association, Federation of Contractors Association of Nepal, Federation of Heavy Equipment Entrepreneurs Association of Nepal, Society of Nepalese Architects, Society of Consulting Architectural & Engineering Firms and Confederation of Indian Industry.
The theme of this expo is to promote shared responsibilities, reiterate the industry's role and responsibility in national development. The organisers said that the focus of this year's expo would be on five key enablers: facilitating growth, competitiveness, promoting infrastructure investments, developing human capital and encouraging social development.
The expo will focus on showcasing advanced construction technologies, inspiring innovative products and services for maximum exposure and greatest reach in Nepal's growing construction sector, the press statement reads. The highlight of the exhibition are construction materials, construction machinery, construction heavy equipment, pre fab structures, UPVC windows machinery, UPVC profile, doors and windows, architectural hardware, bathroom fittings, pipes, tiles and sanitary ware.
It will also showcase roofing, pre engineering building, power tools, windows, concrete block machinery manufacturers, earth moving equipments, material handling equipments, aluminum composite panels and many more.
"We expect that the expo will help to strengthen and ease the commercial and residential construction activities happening in the country," the organisers said.