Agricultural Drones : Revolutionizing Farms of the Future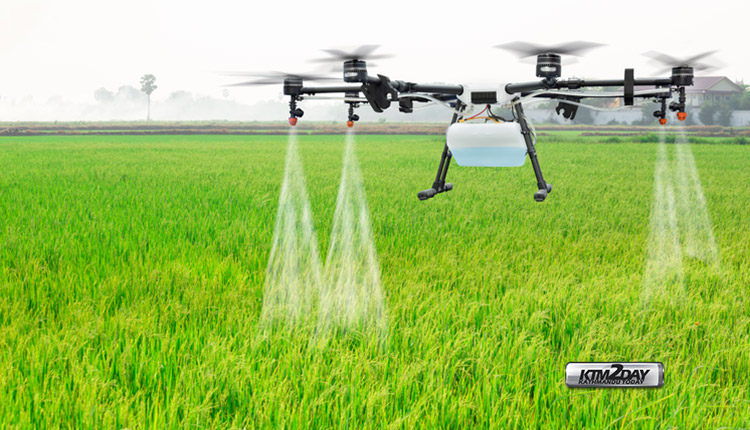 According to Meticulous Research, a company dedicated to analysis, the global market for agricultural drones is expected to reach US $ 5.19 billion in 2025, obtaining a CAGR (Compound Annual Growth Rate) of 31.1% from 2019 onwards. The reason for this, according to analysts, is due to the increased financing of enterprises for the development of agricultural drones, the growth of e-agriculture (electronic agriculture) or information and communication technologies (ICTs) in agriculture, increasing automation in agriculture, increasing emphasis on increasing agricultural efficiency and growing need for water savings worldwide.
However, according to the report published by Meticulous Research experts, the technical limitations of drones could limit the growth of the market to some extent. These limitations can come in terms of both hardware and software.
Evolution of the hardware of agricultural drones
Hardware was the main aspect that most affected the agricultural drone market in general in 2019. This was due to the need to replace, update and modify the parts (hardware) of the drones in order to increase the extended life of the drone and it's performance (efficiency). Along with this changing trend, there was a growing interest by companies in modifying and creating structures for drones, with the aim of making the devices work under extreme weather conditions.
The general hardware market for agricultural drones basically revolves around rotating blades (rotary blade or simply propellers), fixed wing and hybrid drone.
Overall, propeller drones was the sales leader in the global hardware market for agricultural drones in 2019, due to its maneuverability, compact design, ease of use, greater load capacity and low price compared to other types of drones.
Evolution of agricultural drone software
One aspect that is substantially influencing the growth of drone marketing is the growing software technology, which brings data analysis for application in precision agriculture. But drones are not only used for this type of activity, but also for monitoring livestock, smart greenhouses, irrigation, precision fish farming, among other applications.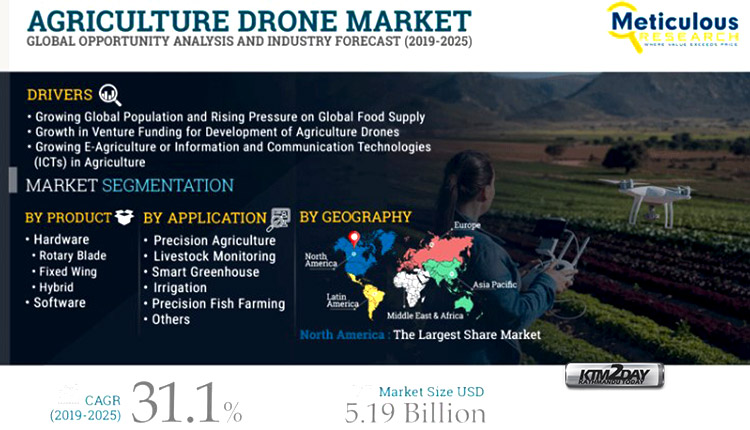 The diverse applications of agricultural drones in agriculture or agribusiness
In precision agriculture, the area that most took advantage of drone technology in 2019, drones were used for various types of operations such as weed detection, plant counting, crop health monitoring, harvest season monitoring, among others . With the help of drones, production tends to increase, in addition to generating savings in several aspects.
According to Meticulous Research's analysis, the market for agricultural drones for irrigation is expected to grow faster from 2019 to 2025.
What will happen from now on in agriculture with the use of drones
Anyway, we are only at the beginning of a major change in the technologies used in agriculture. If we take into account the use of drones with advanced hardware plus software that uses deep learning and AI (artificial intelligence) for data analysis, the trend is that there will be an increasing growth in the area.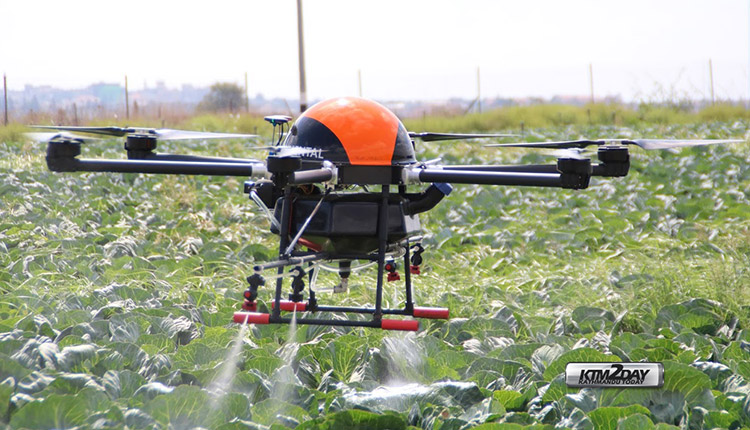 Here are the top 10 companies operating in Agriculture Drone Market-
SZ DJI Technology Co., Ltd.
Parrot S.A.
PrecisionHawk Inc.
AeroVironment, Inc.
Israel Aerospace Industries Ltd.
Trimble Inc.
Microdrones GmbH
AgEagle Aerial Systems Inc.
American Robotics, Inc.
Yamaha Motor Co., Ltd.