Airfares soar with fuel costs, higher demand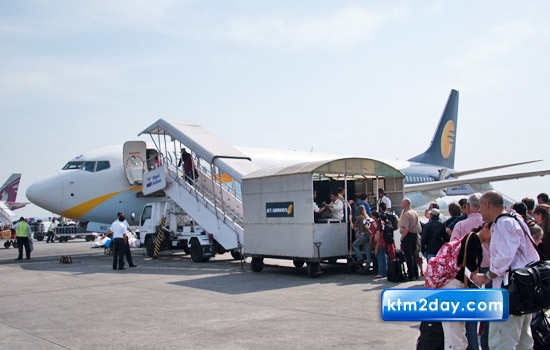 International airlines connecting Nepal have hiked airfares prompted by mounting fuel costs and strong demand. According to travel agents, foreign carriers serving the Middle East, Malaysia and Indian cities have jacked up ticket prices due to increased movement of Indian vacationers and Nepali migrant workers. However, airfares on other sectors have not changed.
One-way tickets for the Delhi-Kathmandu flight have more than doubled from Rs 6,000-7,000 one and a half months ago to Rs 13,000-14,000 presently. Travel agencies said that all Indian carriers flying on the route recorded full occupancy in May and are fully booked for June and July. Similarly, ticket prices have soared for the Kathmandu-Mumbai flight. "Planes arriving from Delhi and Mumbai were full in May and will remain crowded until July due to the Indian holiday season," said Joy Dewan, group managing director of Zenith Travels.
May-July is regarded as the main season when large numbers of Indian tourists visit the country to escape the heat in the Indian plains. "It's a routine fare hike for Indian carriers during May-July as this three-month rush sustains them for the rest of the year," Dewan said. Currently, five Indian carriers fly on the Kathmandu-Delhi route.
According to him, the price of air tickets normally goes down when the season ends. "Airfares are determined by market forces—demand and supply—and these seasons are boom times for them."
Similarly, fares on the Middle East and Malaysia sectors, where Nepali migrant workers make up 80 percent of the passengers, have jumped. "With Malaysia opening its doors to Nepali migrant workers since mid-April, airfares has increased along with rising demand," said Shyam Raj Thapaliya, managing director of Osho World Travel Nepal.
Travel agents said that one-way ticket prices on the Kathmandu-Malaysia sector have soared to Rs 23,000-24,000 from Rs 15,000-16,000 in February. Kumud Khanal, vice-president of the Nepal Association of Foreign Employment Agencies, said that increased ticket prices for Gulf destinations and Malaysia have affected their business too.
"The amount of fees that agencies can charge from migrant workers which include the price of the ticket has been fixed by the government, so the rise in airfares has made things difficult for us," Khanal said. He added that workers were unwilling to pay more than the amount fixed by the government. "The government should revise the pre-departure charges," he said.
The government has fixed the maximum pre-departure charge including the airfare at Rs 80,000 per person for Malaysia and Rs 70,000 for the Gulf.
Meanwhile, travel agencies said that airfares to London, Australia, Japan, Korea, China and Bangkok have remained unchanged. They added that tickets for the Kathmandu-London sector could rise during the Summer Olympics.
ONE-WAY AIRFARES
| SECTOR | BEFORE | CURRENTLY |
| --- | --- | --- |
| Kathmandu-Delhi | Rs 6,000-Rs 7,000 | Rs 13,000-Rs 14,000 |
| Kathmandu-Malaysia | Rs 15,000-Rs 16,000 | Rs 23,000-Rs 24,000 |
| Kathmandu-Mumbai | Rs 14,000-Rs 15,000 | Rs 21,000-Rs 22,000 |
| Kathmandu-Doha | Rs 16,000-Rs 17,000 | Rs 25,000-Rs 26,000 |
| Kathmandu-Dubai | Rs 15,000-Rs 16,000 | Rs 19,000-Rs 20,000 |
| Kathmandu-Saudi Arabia | Rs 22,000-Rs 23,000 | Rs 16,000-Rs 17,000 |
| Kathmandu-US | Rs 65,000-Rs 67,000 | Rs 72,000-Rs 73,000 |