Android 11 launched today, starts rolling out on selected handsets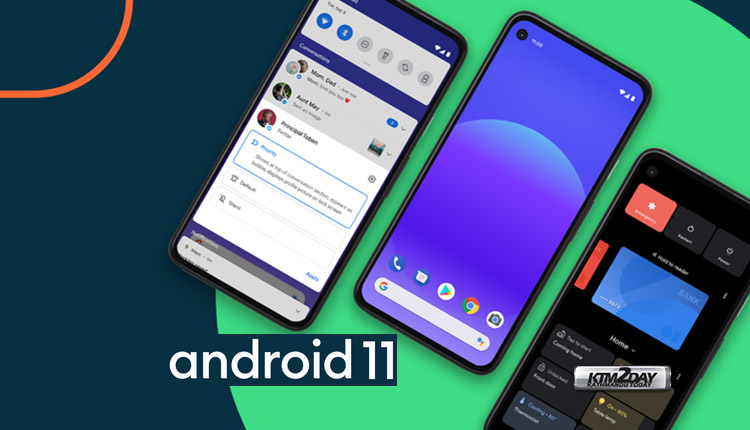 Android 11, the latest version of Google's operating system, begins to be officially distributed today, September 8, in its final version. As you would expect, the update comes first to Pixel phones, Google itself, but the surprise of the day is that devices from some Chinese brands will also receive the update today.
According to The Verge,in addition to the Pixel line, Xiaomi's phones, OnePlus, Oppo and Realme will also receive Android 11 on Tuesday. Among the manufacturers, however, the official confirmation we have so far came only from OnePlus, which announced that the OnePlus 8 and OnePlus 8 Pro will receive the update today in the USA, Europe and India.
The update brings many new features but primarily focuses on –  conversations in notifications, message balloons, quick access to your music and connected home devices, and privacy improvements. The update is being distributed to Pixel phones and will soon reach some devices from Xiaomi, OnePlus, Oppo and Realme.
Among the Pixel being officially updated, only the first models were left out. Android 11 is being distributed to the following Google phones
– Pixel 2
– Pixel 3
– Pixel 3A
– Pixel 4
– Pixel 4A
One of the changes in Android 11 is in notifications: Messaging apps have gained a dedicated section so you can manage your WhatsApp, Telegram, Instagram Direct, and other apps conversations in one place. You can also set the priority for specific contacts.
In addition, the media controls have been redesigned, gaining prominence in the notification tray. There is the option to switch between the headset and a Bluetooth speaker with one touch.
Google's system has natively incorporated a feature similar to Facebook Messenger chat icons. Bubbles place a people or groups icon above the interface, so you can reply to messages from your contacts without changing apps.
Another feature built into Android 11 is screen recording — hallelujah! It is something very basic, allowing you to record the sound of your microphone, system or both. This was already possible in customizations of Samsung and Xiaomi phones, for example, or by using third-party apps.
The menu that appears when holding the power button is different: it occupies the entire screen with the option to control smart devices in your connected home,such as power sockets and light bulbs; and serve as quick access to Google Pay.
And if you have a car, here's some potential good news: Android 11 phones can run Android Auto without using wires. You must have a compatible vehicle and a device that supports 5GHz Wi-Fi.
Android 11 brings privacy improvements
Google has implemented some important privacy improvements on Android 11. The user may grant "one-time" permission for apps to use the microphone, camera, and/or location; next time, the app will have to ask for permission again.
Android will also automatically reset authorizations if you don't use an app for too long. This means that it won't have access to your files or your phone's sensors unless you decide to revoke it again.
Google says that for security and privacy reasons, apps will only be able to activate the standard Android 11 camera to capture photos and videos. You'll still be able to install other camera apps, but it won't be able to open from third-party apps—only directly from the user himself.
There are several other improvements under the hood, including increased 5G integration, native support for screens with variable refresh rate, and interface adapted for different format displays (with camera hole or curved edges, for example).
Google Play System Update — Project Mainline modules
And support for Project Mainline has been expanded: it lets you update parts of the system through Google Play Services. On Android 10, there were thirteen Mainline modules; on Android 11, the total is now twenty-five modules.
Android 11: Download and Rollout
Android 11 will begin rolling out today in stable for all Pixel devices going back to the Pixel 2, but beta releases are also now available for select OnePlus, Xiaomi, OPPO, and Realme smartphones. The OnePlus 8, OnePlus 8 Pro, Xiaomi Mi 10, Xiaomi Mi 10 Pro, OPPO Find X2, OPPO Find X2 Pro, OPPO Ace2, OPPO Reno3 4G, OPPO Reno3 Pro 4G, and the Realme X50 Pro are the devices getting new Android 11 beta builds today.
Download Android 11 for Google Pixel devices
The Android 11 update should be arriving through an OTA update to your supported Google Pixel device. But in case it hasn't, you can download Android 11 for supported Google Pixel devices from online sources.