Archer unveils electric eVTOL Aircraft with passenger capacity of four-seat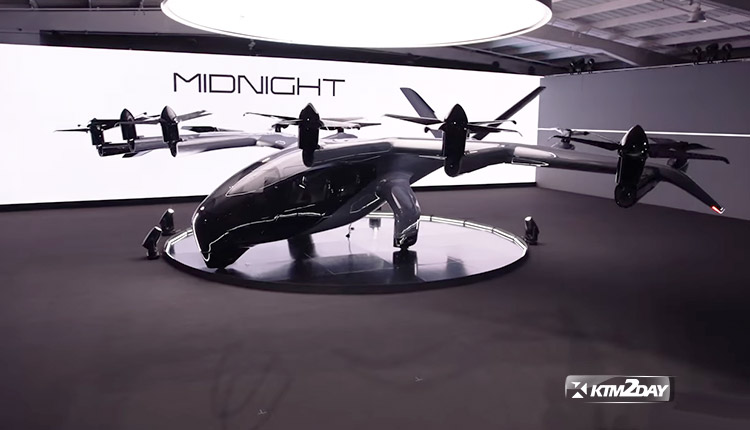 Midnight, an electric aircraft designed by American firm Archer and capable of vertical takeoff and landing (eVTOL), has entered serial production.
The FAA certification is expected to be granted to the manufacturer in 2024, paving the way for the first commercial air taxi passengers to take flight in 2025.
The huge wings of the Archer Midnight have twelve propellers that help it take off. When the machine is 610 meters off the ground, the six of the propellers located at the back are turned off and the front is turned on to provide horizontal traction.
The plane's cabin has room for five people, including the pilot, and the large windows give everyone a great view.
The aircraft can go as fast as 241 km/h, and it can run on its power reserve for up to 160 km. Fast charging feature can provide 32 kilometers of range in just 10 minutes, which is more than enough for short flights around cities.
The developer who made the batteries states that they can go through 3,000 cycles of charging and discharging before they wear out and need to be replaced.
Archer says that this unassuming vehicle is much more useful and quiet than a traditional helicopter.
Flights on Midnight are the same price as taking a regular taxi, and running the company is much cheaper.
The company is building a plant in Georgia that will be able to make 650 electric airplanes per year at first and up to 2300 aircraft per year in the future.
The company will apply for FAA certification in 2024 so that the first customers can board the new aircraft the next year, in 2025.
Archer was also the first company in New York City to offer passenger service. If you take a car, it could take you anywhere from 25 minutes to an hour (or more) to drive the 10 kilometers to your destination, but if you take a plane, it will only take you 10 minutes.