CG Net introduces Super Sasto Package internet at just Rs 649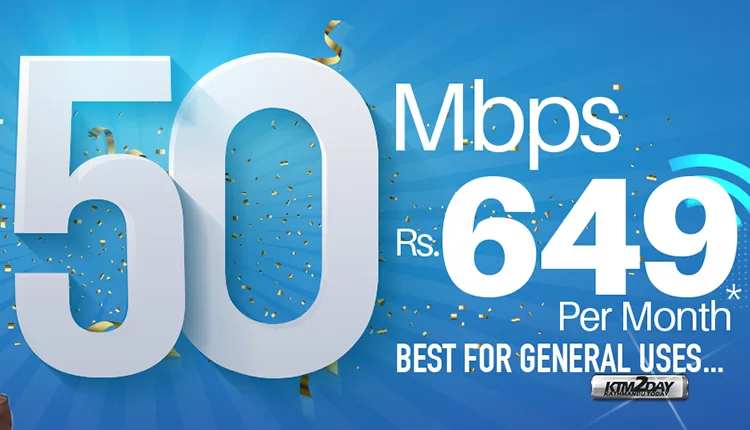 CG Communications Limited, a subsidiary of Chaudhary Group, has unveiled a new and cheaper 'Super Cheap Package' internet package at unbelievable price for the first time in Nepal.
Under the package, customers will be able to get 50 Mbps internet for just Rs 649 per month. According to CG, this package is available for 1 month, 3 months, 6 months and 1 year.
Also Check : CG Net Starts Internet Service Offering 120 Mbps Speed At Just Rs 999
Similarly, those who want to subscribe a three-month package will be able to get 50 Mbps speed internet for Rs 1,947 while the six-month fee has been fixed at Rs 3,894. Similarly, annual customers will be able to purchase this package for just Rs 7,788.
According to the company, customers who want to avail these packages will be able to get the connection cost and drop wire as well as single band router free of cost.
The company has already distributed 120 Mbps speed internet at Rs 999 per month.
CG Communications Limited under Chaudhary Group has brought internet service in operation from this year.
The company, which initially offered 120 Mbps internet speed package, has recently introduced a 50 Mbps package.
50 Mbps Package Pricing Details
Plan 
1 month
3 month
6 month
12 month
50 Mbps
649
1,947
3,894
7,788
One time Set-Up charge
Installation Charge
Free
Free
Free
Free
Drop Wire Charge
Free
Free
Free
Free
Single Band Router
2500
2000
1500
Free
Dual Band Router
3500
3000
2500
2000
Refundable deposit
500
500
500
500
50 Mbps Package Cost Breakdown
1 month Package Cost
Single Band Router – 649 + 2500 = Rs 3149 + 13% VAT = Rs 3558 + 500(Deposit) = Rs 4058
Dual Band Router – 649 + 3500 = Rs 4149 + 13%VAT = Rs 4668 + 500(Deposit) = Rs 5188
3 month Package Cost
Single Band Router – 1947 + 2000 = Rs 3947 + 13% VAT = Rs 4460 + 500(Deposit) = Rs 4960
Dual Band Router – 1947 + 3000 = Rs 4947 + 13%VAT = Rs 5590 + 500(Deposit) = Rs 6090
6 month Package Cost
Single Band Router – 3894 + 1500= Rs 5394 + 13% VAT = Rs 6095 + 500(Deposit) = Rs 6595
Dual Band Router – 3894 + 2500= Rs 6394 + 13%VAT = Rs 7225 + 500(Deposit) = Rs 7725
12 month Package Cost
Single Band Router – 7788 + 0 = Rs 7788 + 13% VAT = Rs 8880 + 500(Deposit) = Rs 9300
Dual Band Router – 7788 + 2000= Rs 9788 + 13%VAT = Rs 11060 + 500(Deposit) = Rs 11,560