Esewa offers attractive gifts while purchasing airline tickets through app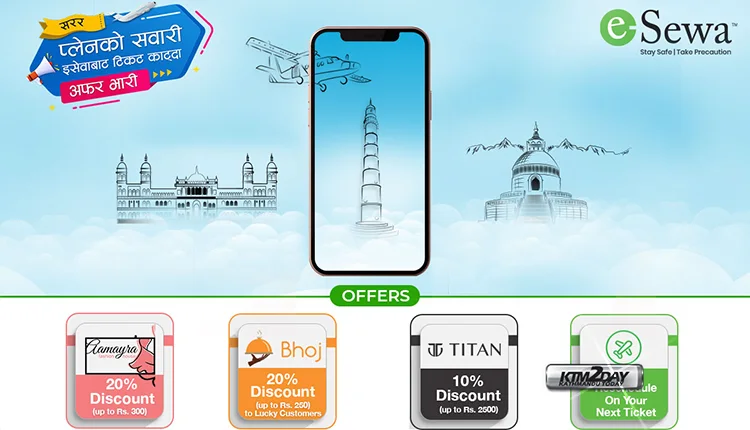 Now every passenger are entitled to win attractive gifts while purchasing airline tickets through ESEWA, Nepal's leading payment service provider.
Passengers travelling to any destination on domestic flights in Nepal will be able to participate in this scheme. The scheme will run for one month from August 2 till August 31, 2021.
Under this scheme, every passenger who buys air ticket through Esewa will get 20 percent discount while shopping at Aamarya Fashion House. Similarly, while shopping for Titan watches one can get 10 percent discount and 10,000 lucky passengers will get 20 percent or up to Rs.250 discount while ordering food from Bhoj .
Similarly, if a passenger has to reschedule another flight within the next six months, Esewa will bear the costs. In order to participate in this scheme, you have to have a KYC verified Esewa account and you have to buy a ticket through Esewa app.
Esewa has currently 4.5 million total subscribers. Similarly, about 16 million people are indirectly receiving services through ISEWA. At present, Esewa has more than 115,000 agents (e-sewa zones and points) across the country. Currently, the number of merchants in Esewa has exceeded 3 Lakh.
One can pay insurance premiums, share transactions as well as pay for mobile, telephone, internet, electricity and drinking water bills including recharge, airplane, bus ticket, school and college fees.
ESEWA currently has 50 member banks and financial institutions. One can easily deposit money in Esewa from these banks and send money to the bank account right from Esewa.