Gold price soars to a record high of Rs 87,400 per tola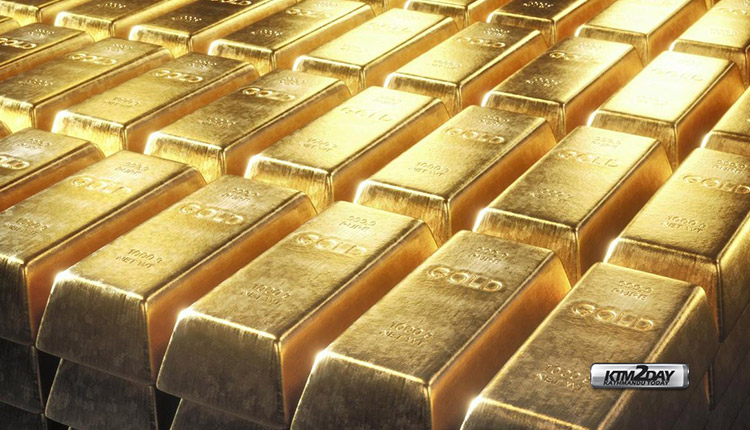 The price of gold in Nepali market has leapt to a record high of Rs 87,400 per tola [11.664 grams].
The price of the precious yellow metal rose by Rs 10,400 per tola from the last rate published by the Federation of Nepal Gold and Silver Dealers' Association (FENEGOSIDA) before the country went for a lockdown nearly two and a half months ago. The price was set at Rs 77,000 per tola on March 23.
FENEGOSIDA sets the reference rate of gold and silver for its member dealers and jewelries in the country.
The last time the gold set the record high price was on March 11 this year when the precious yellow metal was traded at Rs 82,700 per tola. However, the bullion price started to decline and was last being traded at Rs 77,000 per tola before the lockdown was imposed.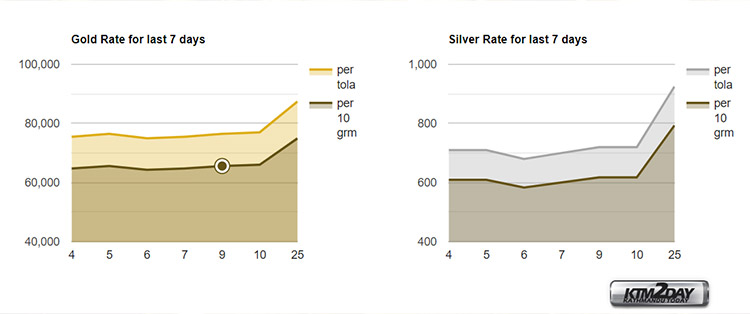 As jewelry shops also remain closed due to the lockdown imposed by the government to contain the spread of coronavirus, FENEGOSIDA — the umbrella organization of gold and silver dealers across the country — stopped publishing the rate. FENEGOSIDA started publishing the rate from Sunday (today) as the government indicated relaxation of the lockdown.
"The market had remained closed due to the lockdown. So we also stopped publishing the rate. However, local administrations in some places have relaxed the lockdown in the last few days and allowed jewelry shops to open for a certain time," said Mani Ratna Shakya, the immediate past president of FENEGOSIDA. "We published the rate so that the dealers and jewelry shops in those places do not have confusion about the price," he added.
The association has set the price in line with the price in the international market, say gold dealers. They say that the price of gold has been surging due to the elevated demand in the international market amid a gloomy global economic outlook as investors consider the precious yellow metal a safe haven.
The government's decision to raise the customs on the import of gold by Rs 350 per tola has also contributed to the jump in the price, according to a dealer.
Similarly, the price of silver also jumped to Rs 925 per tola from Rs 730 on March 23.