Intel announces 10th generation Core processors with up to 10 cores and 20 threads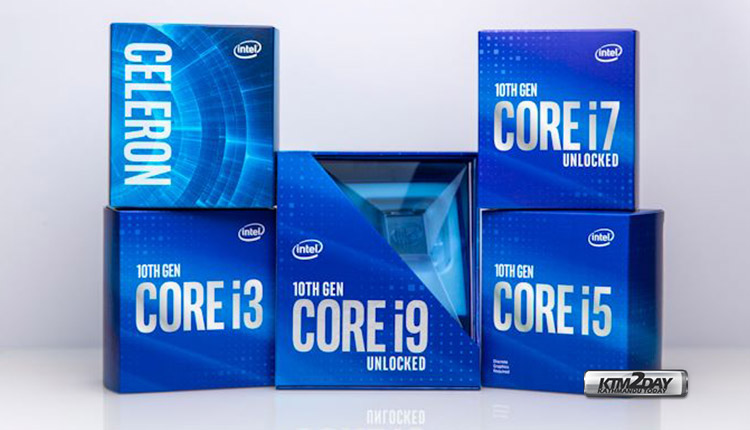 Intel, as expected, today introduced the long-awaited tenth generation of processors for mass desktop systems, also known as Comet Lake-S. In the new family, the number of cores in some chips has increased, in the vast majority of processors, support for Hyper-Threading has been implemented, and the clock speed has also increased.
Intel is positioning the new desktop processors as the best solutions for creating gaming systems. The press release notes: " The 10th generation Intel Core desktop processors designed for gamers provide a suitable balance of operating frequency, number of cores and threads, and also offer support for the latest technologies and increased configuration flexibility, allowing users to create their own unique gaming experience ."
The new family includes representatives with the number of cores from two to ten. The vast majority of models, in addition to the youngest dual-core Celeron, have support for Hyper-Threading technology. Due to this, the dual-core Pentium supports four threads, the four-core Core i3 – eight threads, the six-core Core i5 – 12 threads, the eight-core Core i7 – 16 threads and, finally, the ten-core Core i9 – 20 threads.
The flagship Core i9-10900K boasts the highest frequency. At a base frequency of 3.7 GHz, it is able to automatically accelerate up to 5.3 GHz in one core due to the support of Thermal Velocity Boost (TVB), that is, with a sufficient cooling system that can keep the CPU temperature in a certain range. Due to this technology, all cores can be accelerated to 4.9 Hz.
High frequencies will be offered by the eight-core Core i7-10700K processor. TVB is no longer supported here, however, with Turbo Boost Max 3.0 technology, one core of this chip can accelerate to 5.1 GHz at a base frequency of 3.8 GHz. In turn, the new generation Core i5 processors will automatically reach 4.8 GHz, for Core i3 the maximum frequency will be 4.6 GHz, for Pentium – 4.2 GHz and, finally, Celeron will be able to offer up to 3.5 GHz.
In the new generation of processors, Intel has expanded the ability to manually overclock K-series processors. Now you can enable and disable Hyper-Threading technology for each core separately, manually adjust the voltage / frequency curve, and change the clock frequency for the PEG / DMI bus.
In terms of performance, according to Intel, the new Core i9-10900K surpasses its predecessor in the face of Core i9-9900K in different games by 10 to 33%. The increase compared to the flagship three years ago – Core i7-7700K – ranges from 37 to 81%. There is also a significant performance improvement in multitasking use cases and faster 4K video processing.
Comet Lake-S processors come in LGA 1200 socket and accordingly will require new motherboards that will be built on Intel 400 series logic. The flagship chipset will be Intel Z490. Note that the new Intel platform will offer support for 2.5-gigabit network controllers, Intel AX201 wireless adapters with Wi-Fi 6 and Bluetooth 5.1, as well as Thunderbolt 3 interface and Intel Optane drives.
At the moment, it is not specified exactly when the Comet Lake-S processors will go on sale. It is expected that this will happen in the second half of next month. The recommended price tag of new products will vary from $42 to $488. Note that, compared to its predecessors, prices have not changed much.