Khalti brings 10 percent 'cashback' offer on mobile top-ups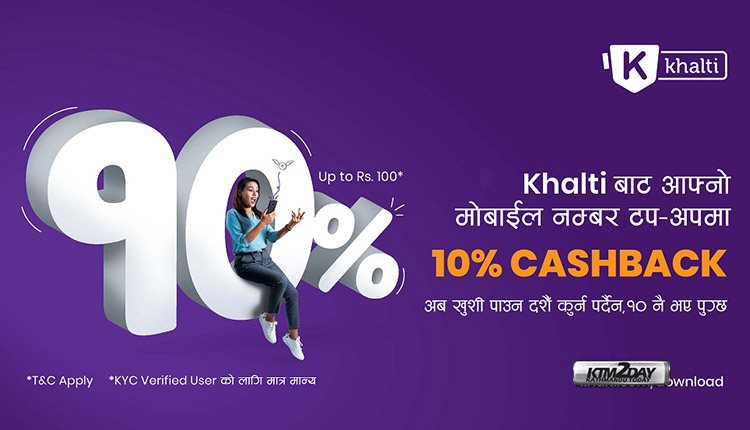 Khalti, a mobile digital wallet has started new cashback offer for mobile users. The mobile number registered in the mobile wallet Khalti will get 10 percent cashback.
Khalti Digital Wallet is a recognized online payment service company from Nepal Rastra Bank.The company claims that this offer top-up service is the most provided cashback in Nepal so far.
The offer is aimed at saving customers' money and time by reducing the hassle of having to go to the store and scratching the recharge card to top up their mobile balance, said Shirish Shrestha, Khalti's brand and marketing manager.
To get cashback under this offer which is applicable to top up Ncell, Nepal Telecom, and Smart mobile operators, the number has to be your Khalti ID. The same number will have to be recharged from the Khalti. Also, the Khalti KYC must be a verified user account.
This scheme has been started since last Shrawan 7 and will be available for a limited time only.
The cashback will be a maximum of Rs 100 per month according to each Nepali month, after which the normal 1 percent cashback will be available, the company said.
1 percent cashback will be available on recharge of numbers other than your own.
Also, even if the full cashback is not obtained while recharging, if the conditions are met, the full cashback can be seen in the transaction history.
How to get 10% cashback?
– Go to the top-up option in the Khalti app.
– Enter the mobile number registered in the Khalti app (ID) and the amount you want to recharge.
– Tap on the 'OK' button to make sure all the details are correct