MediaTek T800 5G modem launched with 7.9Gbps download and 4.2Gbps Upload speeds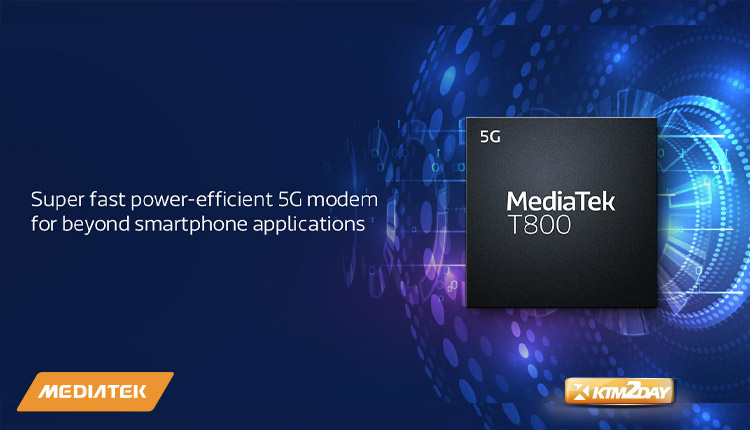 When it comes to mobile devices, Chromebooks, Smart TVs, Internet of Things gadgets, and more, MediaTek has emerged as a frontrunner among chipset manufacturers.
Additionally, the company has a variety of 5G modems that compete with market leaders Qualcomm and Samsung.
Currently, the MediaTek T800 5G modem has been released alongside a few new chips, and it offers speeds of up to 7.9Gbps.
Part of the brand new MediaTek Dimensity 9200 System-on-Chip (SoC), it is also suitable for industrial Internet of Things (IoT), machine-to-machine communication (M2M), and always-on personal computers.
The MediaTek T800, freshly released, is the follow-up to the T700, as shown by the model number. An effective and quick modem, it works with both StandAlone (SA) and Non-StandAlone (NSA) networks and sub-6GHz and mmWave brands.
There's also the ability to use two SIM cards at once, in what's called "Dual Standby" mode. The maximum download speed the modem is capable of is 7.9Gbps, and the maximum upload speed is 4.2Gbps.
Both the 4GPP Release-16 specification for 5G and 4CC carrier aggregation are supported by the modem.
Snapdragon X70 modem by Qualcomm tops out at 10 Gbps for downloads and 3.5 Gbps for uploads.
When it comes to power efficiency, the MediaTek T800 5G modem has you covered thanks to its construction on the 4nm node and inclusion of 5G UltraSave technology.
The PCIe and USB host interfaces are supported, although there are additional ways to link it to the rest of the computer.
It includes a GNSS receiver, an MLNA (Monolithic Low Noise Amplifier), an Envelope Tracking (ET) chip, FR1 Transceivers, and PMICs for other functions. The modem is compliant with 3GPP Release-16 for 5G cellular networks.