Ncell slashes internet price by 25%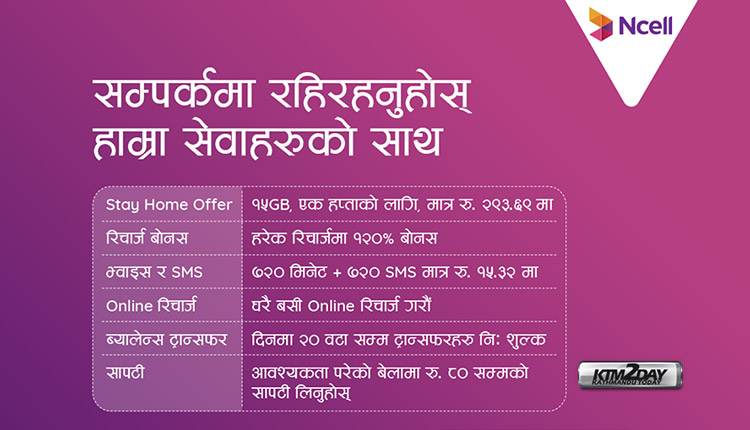 Ncell Private Limited, in line with the decision of the government, reduced rate of its pay as you go (PAYG) internet rate by 25% on Thursday (April 02). With this all Ncell customers can now avail internet connectivity at more affordable rate during lockdown period.
The company has slashed rate of its PAYG internet from standard rate of Rs 2 (excluding taxes) per MB to Rs 1.5 per MB. This rate will remain effective during the period of lockdown.
In a bid to ensure access to internet at cheaper price under the PAGY, Ncell has already been providing a data bonus scheme under which the cost of internet drops up to 80% than the usual rate. Under this scheme, the more customers spend main balance on data, the service gets cheaper.
After implementation of the 25% discount on PAYG rate, customers using internet can enjoy discount up to 80% under the new PAYG model. When customers use internet from main balance, they get bonus data on real time basis at a specific threshold based on amount spent from the main balance.
Customers will get bonus data immediately when they spend Rs 2, 5, 10, 20, 30 or more on every additional Rs 10. After initial spending of Rs 10 in data under PAYG, customers for every additional Rs 10 spent on data will receive 20 MB bonus.
If customers spend Rs 2 for 1.04 MB data, they now get additional 2 MB as bonus. Those who spend Rs 30 for using data, will get a total of nearly 73 MB which includes 57 MB as bonus. Similarly, if customers consume Rs 100 while using data, they get 197MB as bonus and 52.2MB from main balance so in total they will get nearly 250MB.
In the wake of the coronavirus (COVID-19) pandemic, Ncell has also been providing multiple consumer-friendly offers to its customers to address the need for communications services to stay connected during this crisis. The offers include increment in saapati amount, free balance transfer service, 120% bonus balance on recharge and stay home pack of 15 GB.