Nepal Telecom expands 4G service to additional 32 Districts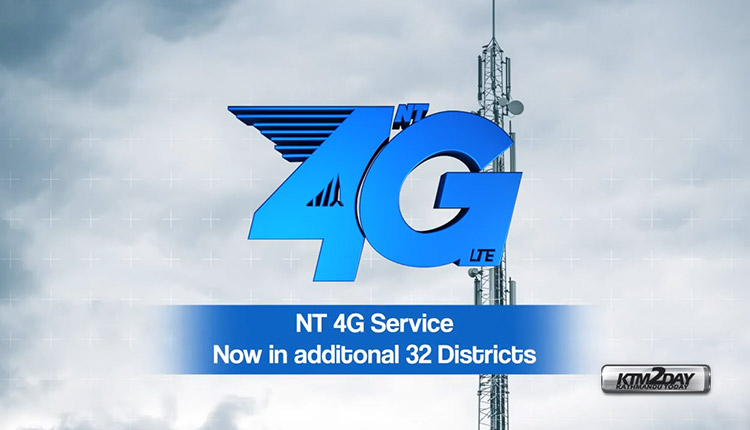 Nepal Telecom (NT) has rolled out 4G service in 36 districts of the country.
Prime Minister Khadga Prasad Oli launched Nepal Telecom's nationwide 4G/LTE network amid a function ceremony held in Kathmandu on Wednesday. Though 4G service has been available for NT users in the Kathmandu Valley and Pokhara, the government-owned telecommunication company has expanded the high-speed data service to 59 more cities of 36 districts of all seven provinces.
Under the 4G/LTE technology, users not only get high speed internet, but also high quality voice call service. As the data speed of the 4G is faster compared to what the NT users are getting from current 3G services, they will be able to watch, download and listen audio/visual contents, play games and surf other Internet contents that require high bandwidth, according to the NT.
However, the government-owned telecommunication company faced embarrassment on the very nationwide launch of the fourth generation of mobile data technology when the prime minister encountered disturbance in voice service while making calls to chief ministers of Province 3 and Province 1.
Launching the new service, Prime Minister Oli urged all to reap the benefit of the new technology provided by the state-owned telecommunication company. "We have entered the age of 4G from first 2G and then 3G. We have taken a giant stride to the new era. I believe it will help in our development efforts including health, education and agriculture sectors," he added.
Amid concerns that the high-speed data technology could be expensive for the users, the NT has made it clear that it has not set a difference price for the 4G/LTE service and will be available for the NT data users at the same price of 3G/2G.
NT had started 4G/LTE service in Kathmandu valley and Pokhara on January 1, 2017. According to the NT, altogether 800,000 people are using the NT's 4G in these two major cities of the country.
Issuing a statement on the launch of the nationwide 4G/LTE service, the NT said mobile phones and SIM cards should support 4G/LTE.
"There is no additional charge associated on activation of 4G/LTE service. In mobile set, users can follow the direction after dialing #444#. They can know whether they have to change their SIM card to get the new service or continue with the activation process. If they have to change the SIM cards to get the new service, they can it replaced from the nearby customer counters free of cost," read the statement.
Dilli Ram Adhikari, the managing director of the NT, said that the 4G/LTE service will help in lifting Nepal's performance in digital indicators. "We have launched the service across the country to meet the demands of customers for high-speed and quality data and connectivity," added Adhikari.