Nepal Telecom launches Spring Offer, 14GB of data at just Rs 299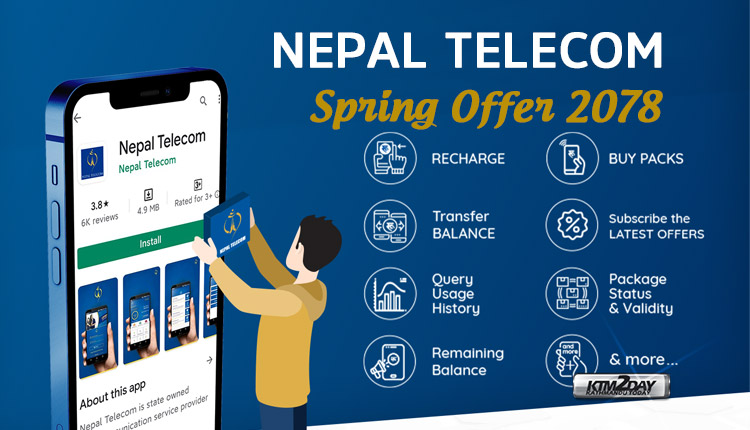 Nepal Telecom has unveiled the spring offer with various packages keeping in mind the convenience of the customers on the occasion of New Year 2078 BS.
The services in this offer will be valid for 90 days starting from 31st Chaitra, 2077.
The telco has stated that the spring offer has been provided with some additional facilities earlier that was available under the Winter Special package.
On the occasion of the New Year, an offer of 14 GB of data has been made available for the company's mobile customers. Subscribers of this service will get 500 MB of data per day for 28 days at a total cost of just Rs 299.
Under the Spring offer, keeping in mind the convenience of the customers, Nepal Telecom is now offering 4 GB data at just Rs 125. This includes 1 GB data usable on all networks(2G,3G,4G) and 3GB data to be used only on 4G network.
This offer will be valid for 5 days and also includes 100 minutes of free talktime. This offer can also be used 24 hours a day.
Another popular offer among data users is unlimited 1 hour pack. Nepal Telecom has upgraded this service and is now offering 2 hours of unlimited data at just Rs 30. This offer can also be used for 24 hours.
On the occasion of nepali New Year 2078, the company's GSM mobile customers can get 4 GB of data valid for 28 days at just Rs 280. The 3 GB of data under this pack can be used at any time and on any network.
Nepal Telecom is also offering 1.5 GB of data pack at Rs 95. This pack is valid for 7 days .
As most of the subscribers using the old CDMA mobile and WiMax services are slowly migrating to latest technology so the company has given continuation to only limited offers for these users under Winter offer.
Nepal Telecom customers have to dial *1415 to get information about various packages. One can also get information and purchase services from the company's 'Nepal Telecom' app.
Similarly, detailed information can be obtained through the company's website ntc.net.np  .