Nepse at all time high with a turnover of around Rs 10 billion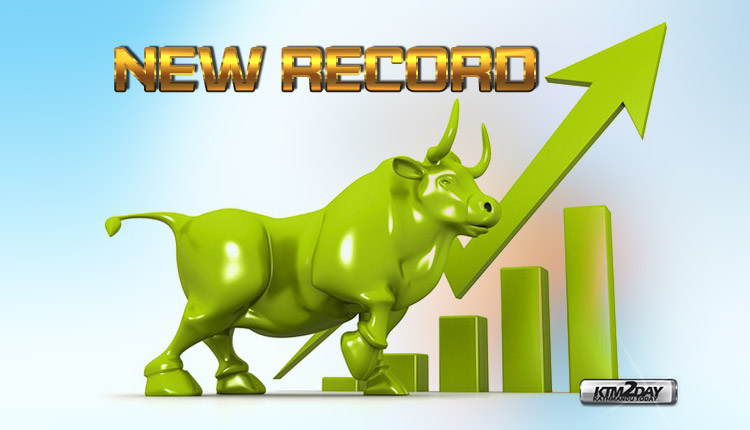 The Nepse index has broken an all-time high record on Sunday which is the first day of the stock trading week.
With an increase of 54.26 points today, the Nepse index has broken the previous all-time high record and risen to 2738.35 points. This is the highest point ever gained by NEPSE. Earlier, the index had risen to 2735.40 on April 15.
Today, the Sensitive Index also rose by 8.64 points to a high of 488.14. The transaction amount has also exceeded Rs 10 billion after a long time.
Market expert Meghnath Niraula says that the market has gained positive momentum as the political dilemma has been resolved to some extent. "There was political confusion among investors, which has almost been resolved," he said. "Now the market is going up with a slight correction."
Niraula says that the lack of investment environment in other sectors is also the main reason for the market growth. "Other sectors have come to a standstill due to the Corona epidemic. The stock market has become the only area of investment at this time," he said.
Rohan Karki, an active investor, says that with today's increase, the market is sure to move forward in a positive way. "Now with intra-day correction, the market is going up," he said. "Now the market is very unlikely to go down."
Karki said that the market has set a positive direction as the political dilemma among investors has been resolved. "Now the market is not likely to fall under this or that pretext," he said.
According to Karki, the market is still positive technically and fundamentally. "Dividends of companies are now made public in 3-4 months," he said, adding that "this will take the market to new heights."
The market is expected to become positive throughout the year.
Today, all 13 groups in the Nepse sub-group are covered in green. The non-life insurance group has risen the most by 579.77 points on this day. Life insurance group increased by 529.72 points, 27.48 points in banking group, 111.30 points in development bank group, 15.90 points in finance group, 35.92 points in hotel and tourism group, 30.07 points in hydropower group and 2 points in investment group. Similarly, 63.34 points in the production and processing group, 101.70 points in the microfinance group, 0.04 points in the mutual fund group, 45.93 points in other groups and 50.88 points in the business group.
Most trading companies
A total of 213.26 million 882 shares of 214 companies listed in Nepse have been bought and sold at Rs 10.40 billion.
The company that had the highest turnover was of Nepal Reinsurance which traded Rs 852 million on this historic day.
NCC Bank had a turnover of Rs 315.7 million, NIFRA Rs 294.9 million, Hydroelectricity Investment Rs 257.1 million, Shikhar Insurance Rs 237.5 million, IME General Insurance Rs 232.4 million and Chilime Hydropower Rs 225.8 million. NRN Infrastructure had a turnover of Rs 215 million, Nabil Bank Rs 212.5 million and Arun Kabeli Power Rs 181.8 million.
Top Gainers and Losers
Today, the share price of 7 companies has a positive circuit. On the same day, the share price of Ruru Hydropower rose by 10 percent and the share price of Shikhar Insurance, Samata Gharelu Laghuvitta, Saptakoshi Development Bank, Progressive Finance, Barun Hydropower and IME General Insurance rose by 10 percent. Today, the share price of the Bishal Bazar Company has also risen by 9 percent.
On this day, the shareholders of Union Hydropower lost the most as the company's share price has fallen more than 5 percent.