NIFRA set to issue bonds on the London Stock Exchange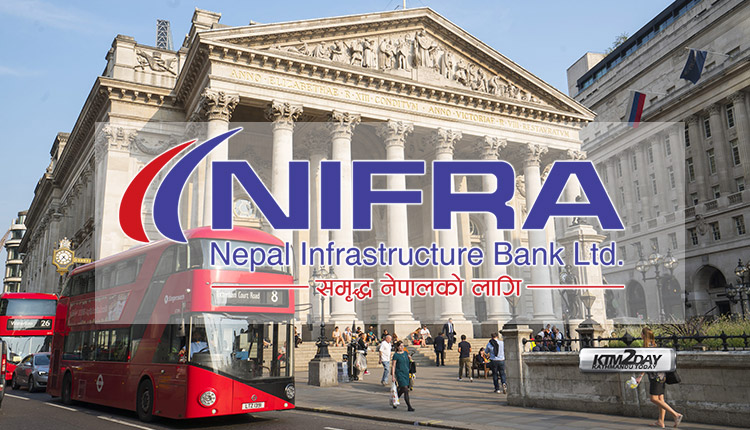 Nepal Infrastructure Bank is going to issue bonds on the London Stock Exchange. NIFRA Chief Executive Officer Ram Krishna Khatiwada said that a bond worth USD 30 million would be issued on the London Stock Exchange within the current financial year.
"We are issuing bonds worth USD 30 million to be listed on the London Stock Exchange within the current fiscal year. We have already received approval from the Nepal Rastra Bank," he said in the 'Economic Dialogue' program of the Nepal Economic Journalists Association (NAFIJ).
He also informed that the investors of the bond will get 8.5 percent return and said that the bond would be issued by a well-known London-based institution by 'credit wrapping'. He added further, that the money received from the five-year bond will be invested in major development infrastructure of Nepal.
Khatiwada also discussed about the possibility of bringing-in strategic partners in NIFRA. He also clarified that the investors of NIFRA established for the purpose of investing in large development infrastructure should not worry about the return. "It is a bank that invests in infrastructure of a long-term nature, not a lot at once, we give a fair return in the long run," said Khatiwada.
He further added that there is still capacity to distribute about 10 percent dividend but the process has not been taken forward.
NIFRA is also preparing to issue bonds for banks and financial institutions. The bonds have been prepared in such a way that the commercial banks have calculated their investment in infrastructure when purchasing such bonds. Similarly, discussions have also been started on insurance bonds. Insurance companies will be given equal recognition if they invest in infrastructure when buying such bonds. Insurance bonds will focus on life insurance companies in particular.
Speaking on the occasion, Chairman Modnath Dhakal said that the weekly dialogue program would be continued for capacity building of economic journalists.