Nokia T21 tablet launched with Unisoc T612 SoC, 10.36 inch 2K display, Wacom certified Stylus Pen and more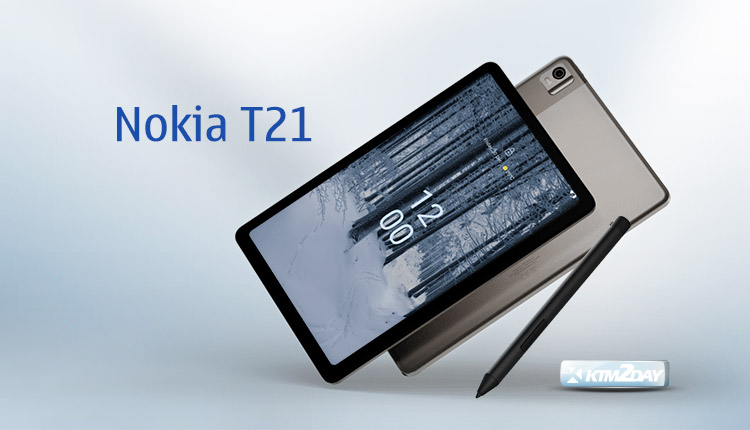 The Nokia T21 tablet has been quietly released in Indonesia. Launched in India last year, the Nokia T21 is the follow-up to the Nokia T20 tablet.
The latest tablet from Nokia, like the Nokia T20 from the previous year, features a 2K display and dual speakers. Aluminized glass and aluminum are used in its construction. With its UniSoC T612 processor and 4GB of RAM, the Nokia T21 is a powerful device.
Also Check : Nokia Mobile Price in Nepal
An 8200mAh battery and USB Power Delivery 3.0 compatibility are standard in the most recent Nokia tablet. In addition to being the first Nokia tablet to allow stylus pen, the Nokia T21 is also Wacom's WGP Pen technology-compatible.
Furthermore, the Nokia T21 will receive two Android software updates according to Nokia's promises. Take a look at the Nokia T21's features, price, and specifications.
Nokia T21 Technical Details
The Nokia T21 has a 10.36-inch screen that is 2K (1200 x 2000) in resolution, 360 nits bright at their brightest, has a 5: 3 aspect ratio, and is Widevine L1 certified.
Nokia's newest tablet sports Toughened Glass on its display and has been certified by SGS as having a Low Blue Light output.
The newest Nokia tablet is driven by an octa-core UniSoC T612 processor with a built-in Mali G52 GPU.
A 64GB hard drive and 4GB of RAM are included. There's also support for microSD cards up to 512GB in the tablet's slot.
Android 12 is factory installed on the Nokia T21. As an added bonus, the Nokia T21 tablet will receive two major Android OS updates and three years' worth of security patch updates from the company.
There's an 8-megapixel camera with an LED flash on the back of the brand-new Nokia T21. It has a high-resolution 8 megapixel camera on the front for making video calls.
The tablet has an 8200mAh battery with support for 18W fast charging.
A USB 2.0 Type-C port is used for powering the device and transferring information. It supports OZO spatial audio and has a dual-speaker system.
The Family Link parental controls can be used in conjunction with Google's Kids Space to help you keep an eye on your child's Google activity and ensure that they're using it responsibly.
It's certified of being water and dustproof (to an IP52 standard) and comes with a 3.5mm audio jack.
Nokia Tab T21 customers can choose from a Charcoal Grey finish.
As impressive as it looks, the dual speakers on the Nokia T21 with OZO Playback can pump out 96 decibels of sound.
It measures 247.5 x 157.3 x 7.5mm and weighs 471 grams.
The tablet has a number of different wireless connectivity options, including LTE (which is optional), WiFi 802.11 a/b/g/n/ac, Bluetooth 5.0, NFC (only on the LTE edition), GPS, Glonass, and Galileo.
Because of the Wacom WGP Pen technology, the Nokia T21 can work with the Wacom Active ES 2.0 pen.
Nokia T21 Price and Availability
At IDR 32,99,000 (about US $210), the Nokia T21 is currently launched in Indonesian market for a 4GB + 64GB storage option .
Indonesian retailers will begin stocking it in the coming month. The Nokia T21's worldwide and Indian release dates have not yet been announced.