Nvidia unveils GeForce RTX 3090 Ti, World's Most Powerful Gaming GPU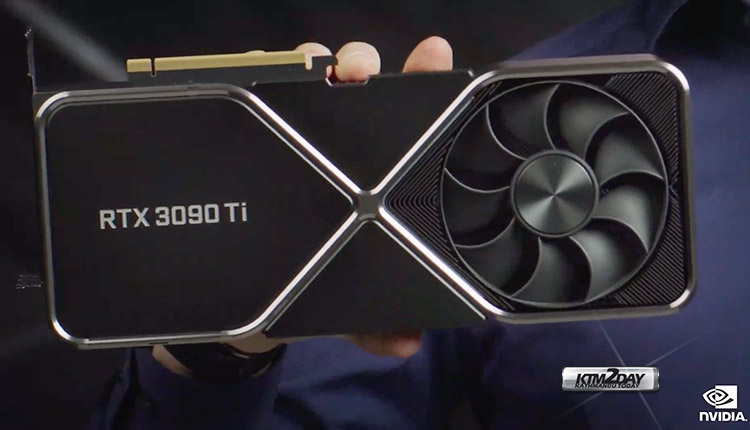 The GeForce RTX 3090 Ti was unveiled by NVIDIA on Tuesday, January 4, during their CES 2022 press presentation. There are no other cards like it in the market, not just in the RTX 30 series with Ampere architecture, but in the entire industry.
The GeForce RTX 3050, intended at gamers on a budget, was also officially unveiled at the conference.
Except for the "Ti" emblem, it looks virtually identical to the standard GeForce RTX 3090. It has a three-chamber layout with a dual-fan heatsink.
The new high-end graphics card has a memory capacity of 24 GB of GDDR6X at 21 Gbps, which is nearly the same as the 3090, but it runs at a higher frequency of 7.7%. As a result, NVIDIA expects to increase processing power by 11%, from 35.6 teraflops to 40 teraflops.
Ray-tracing has 78 RT-teraflops, but tensor-tracing has 320, which is essential for technologies like DLSS. To put 3090 in perspective, it had 69.5 teraflops, while 3090 had 285 teraflops.
We don't have any more information on NVIDIA's technical specifications. It is not known, for example, how much power it consumes in watts. It's possible that the ongoing rumors hold some truth, but there's no way to verify them.
Only 82 of the card's 84 multiprocessors are used by the RTX 3090's 8-nanometer GA102 chip, so the 3090 Ti could make use of them all.
Prices have not been made public. The price of 3090 was set at $1,500. This might cost as much as US$ 2000 if the current problem in the components and standards is taken into account.
NVIDIA also revealed notebook variants of the GeForce RTX 3080 Ti and RTX 3070 Ti during the conference.