OnePlus 6T launched in Nepal for 70K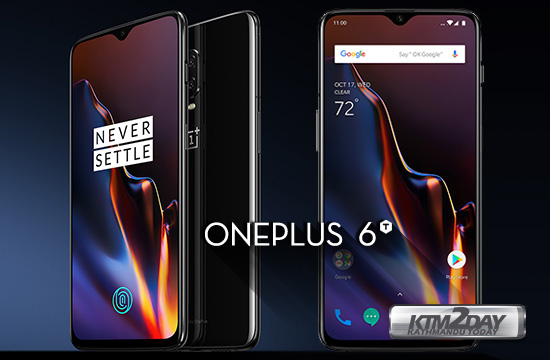 OnePlus 6T launch event began in New York with the founder Pete Lau taking the stage to show off its flagship smartphone.
Lau called the OnePlus 6T's launch in the US the "biggest step" in the company's history. The company announced a partnership with T-Mobile in the US, which is big news for the US market.
OnePlus 6T is the successor to the OnePlus 6, which was launched earlier this year in India.
Also read – Daraz to host 11.11, World's Biggest Sale Day on Nov 11
Kyle Kiang, OnePlus' North America head took to the stage to talk about the smartphone.He said OnePlus has become the number 1 premium smartphone brand in India. OnePlus 6T will be available in two colours — Mirror Black and Midnight Black.
The OnePlus 6T price is the thing that most people are waiting for because a lot else about the phone has either been announced by OnePlus or can be guessed easily.
Much of the focus before the event has been on the fact that the OnePlus 6T is going to ship with an in-display fingerprint reader.
OnePlus is calling this technology "Screen Unlock". This is something we have seen before on phones from Vivo, which is owned by the same parent company as OnePlus.
The company said it tried this technology on the OnePlus 5T, but it didn't ship that tech in the previous phone because it "wasn't ready".
OnePlus 6T can apparently be unlocked in 0.34 seconds via Screen Unlock, the company claims. The company says these fingerprints are stored on device.
OnePlus 6T has a new low-light photography mode called Nightscape, which allows people to capture better details from photos shot in poor lighting conditions, OnePlus claims. Nightscape is coming to OnePlus 6 via a software update starting later this week, the company announced. OnePlus has also improved the portrait photography mode on its new smartphone, the company said. It has a new portrait mode called Studio Lighting.
OnePlus also promised the best gaming performance at the launch event, with PUBG Mobile loading up to 20 percent faster. The company also said that OnePlus 6T has 23 percent better battery life than the OnePlus 6. OnePlus also claimed that its software system is one of the most stable among Android manufacturers. The company claims that switching between recent apps is smooth and it showed of new gestures to accompany this.
The smartphone is available in 3 variants with 6+128GB , 8+128GB and 8+256GB storage options. The pricing of the handsets are set at $549,$579 and $629 respectively.
RAM + Storage Options
Price
6 GB + 128 GB
(Mirror Black)
$549
8GB + 128 GB
(Mirror Black, Midnight Black)
$579
8GB + 256 GB
( Midnight Black)
$629

Oneplus 6T Smartphone Full Specification:
—SoC: Qualcomm Snapdragon 845
—CPU: 4x 2.8 GHz Kryo 385, 4x 1.8 GHz Kryo 385, Cores: 8
—GPU: Qualcomm Adreno 630, 710 MHz
—RAM: 6 GB, 8 GB, 1866 MHz
—Storage: 128 GB, 256 GB
—Memory cards: microSD, microSDHC, microSDXC
—Display: 6.41 in, Optic AMOLED, 1080 x 2280 pixels, 24 bit
—Battery: 3700 mAh, Li-Polymer
—OS: Oxygen 9.0 (Android 9.0 Pie)
—Camera: 4608 x 3456 pixels, 3840 x 2160 pixels, 60 fps
—SIM card: Nano-SIM
—Wi-Fi: a, b, g, n, n 5GHz, ac, Dual band, Wi-Fi Hotspot, Wi-Fi Direct
—USB: 3.1, USB Type-C
—Bluetooth: 5.0
—Positioning: GPS, A-GPS, GLONASS, BeiDou, Galileo
—Weight: 185 g
—Dimensions: 74.8 x 157.5 x 8.2 mm
—OnePlus 6T Price in Nepal : NRs. 70,000 (6GB RAM and 128 GB storage)
Like other 'T' upgrades from OnePlus, the OnePlus 6T isn't a major refresh, but rather a half-yearly tweak to the OnePlus 6.
The 6T features a 6.41-inch OLED screen with a resolution of 2340×1080 (402ppi) and 19.5:9 aspect ratio. For the first time in a OnePlus phone, the 6T includes an in-display fingerprint reader. The company calls its version of this technology "Screen Unlock." OnePlus claims it's the fastest-performing implementation of in-display fingerprint authentication yet.
Internally, the OnePlus 6T specs include an octa-core Qualcomm Snapdragon 845 CPU that can boost up to 2.8GHz and an Adreno 630 GPU. The phone will come in multiple variations that either include 6GB or 8GB of RAM and 128GB or 256GB of built-in storage.
OnePlus highlighted the small notch of the 6T, and also mentioned that the "chin" of the front has gotten smaller compared to other Android smartphones that are moving towards all-screen designs. Behind that screen, the OnePlus 6T has a 3,700mAh battery, which is a slight improvement over the 6.
In addition to running Oxygen OS based on Android 9 Pie, the OnePlus 6T includes a degree of water and dust resistance (but no IP rating), a dual nano-SIM slot (single on the T-Mobile model), and battery that utilizes OnePlus' Fast Charge technology.
The 6T has a dual-camera setup with 16MP and 20MP sensors and an aperture of f/1.7 for the primary lens. It offers optical image stabilization, and OnePlus is introducing a new Nightscape feature that's meant to help improve low-light photography, which has been a weakness of prior OnePlus phones. A new Studio Lighting feature, developed in collaboration with photographer Kevin Abosch, similarly aims to produce more flattering portraits.
The notch is smaller
While the OnePlus 6 already has a smaller notch than most devices around, the OnePlus 6T endeavors to make it even smaller. The 'waterdrop' notch is smaller, without doing away with any of the components on the notch itself. However, it's still a notch, and you can't boast of the truly rectangular screen shape on this.
The phone itself
Apart from being ever-so-slightly larger (in screen and overall size) than the OnePlus 6, there's not much else to tell the two phones apart. Even the internals are pretty much the same, with the same Qualcomm Snapdragon 845 SoC, up to 8GB of RAM and up to 256GB of internal storage. However, while the OnePlus 6 started at 64GB, the 6T bumps up the base variant to 6GB RAM and 128GB of storage.
The OnePlus 6 didn't have bad battery life at all, topping out at about six and a half hours, but the OnePlus 6T breaking eight hours is incredible.
To Buy or Not to buy ?
If you're already a OnePlus 6 user, skip the 6T. You'll get much more bang for your buck by waiting for the OnePlus 7 or even the OnePlus 7T.
If you're already a wireless headphone user and want a bigger battery and some cutting edge tech in the form of an in-screen fingerprint reader, the 6T could be for you. It's still hard to beat OnePlus in the pricing category, even as the cost of its phones has gone up over time. You definitely won't be disappointed by this device.
OnePlus 6T Price & Availability in Nepal
OnePlus will open U.S. orders for the device via OnePlus.com on November 1, 2018 and on November 6 in other parts of the world.
Olizstore , the authorized dealer of OnePlus smartphones in Nepal has implied that OnePlus 6T will be releasing soon in local market although no word on the launch date has been mentioned.
The pricing of the OnePlus 6T in Nepal is speculated to be in the range of Rs.68,000- Rs.85,000 for three variants with different storage options.
Update : Oneplus 6T is set to launch at Daraz 11.11 Big sale Day in Nepal with a price set at Rs.70,000 for the base variant of 6GB RAM and 128 GB storage.