Peugeot 5008 launched at NADA – A whole new dimension for SUVs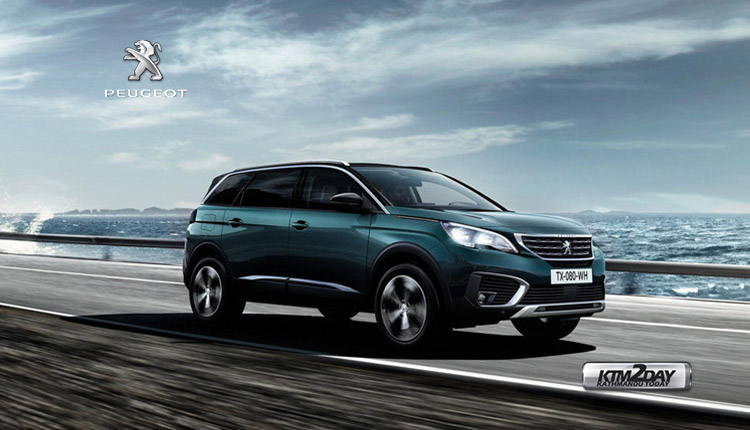 Shangrila Motors Pvt Ltd, the authorized distributor of Peugeot in Nepal has launched the new PEUGEOT 5008 SUV in Nepali market at the NADA Auto Show 2019.
The new PEUGEOT 5008 breaks new ground as a large seven-seater SUV in the C segment. As a new contender in this growing consumer market, it boasts many strengths.
Also Check : Peugeot 3008 Price in Nepal
Its name hasn't changed, but everything else has. The all-new PEUGEOT 5008 SUV includes the latest version of the outstanding PEUGEOT i-Cockpit®, Efficient Modular Platform 2 (EMP2), and a plethora of high-tech features that enhance comfort and safety.
Behind the elegant, dynamic design lies a superbly practical vehicle. With seven seats, the all-new PEUGEOT 5008 is the first SUV to offer modularity on par with that of the best people-carriers.
The new PEUGEOT 5008 SUV is the fifth SUV to be unveiled by the PEUGEOT brand. The new PEUGEOT 5008 SUV is thus clearly a modern automobile, offering a new on-board experience and smart features, and it has what it takes to stand out as the benchmark for its class.
By virtue of its unique qualities, the newly unveiled PEUGEOT 5008 SUV aims to achieve three objectives:
to pursue the brand's move up-market strategy
to be an international success
to become the leading (benchmark) C-segment large seven-seater SUV.
The 5008 SUV can rely on its many strengths to reach these goals. It all begins with a stunning interior that is nonetheless extremely practical.
Where the previous Peugeot 5008 was lower, sleeker, and resembled something more akin to a minivan, the new 5008 has made its debut with a huge overhaul.
The biggest change coming in the way of the exterior. Gone is the minivan styling, in its place is something arguably much more appealing. The seven-seater now looks like a true SUV, and gets more space to match; wider, longer, and sporting more interior volume. With the third row seats folded down completely, the trunk sports a record 780 cubic-decameters.
Apart from loads of new space, Peugeot has given the 5008 a more driver-focused layout. A new "i-Cockpit" system – adopted from the recently introduced 3008 – utilizes an Efficient Modular Platform, and introduces loads of new high-tech features not previously found on the 5008. The modular aspect coming by way of seven individual seats that can be transformed in a few different ways.
New sensory features like ambient lighting, massage seats, and in-car fragrances give the 5008 a more premium feel. While the addition of a 12.3-inch digital instrument cluster brings the family hauler into the modern age, relatively speaking.
The 5008 is available with two different gas engine options. A 1.2-liter, 128-horsepower (95- kilowatt) engine comes paired to either a six-speed manual or six-speed automatic. That's right, you can get a manual on this large SUV. Move up a trim and you can opt for the slightly more powerful 1.6-liter engine that produces 163 horsepower (121 kilowatts).
Of course, a 1.6-liter diesel option is also offered and provides 118 horsepower (87 kilowatts). A 2.0-liter diesel option provides 148 horsepower (110 kilowatts) or 178 horsepower (132 kilowatts), depending on how you spec it, and both come with the choice of automatic or manual as well.
Peugeot 5008 Price in Nepal
The new 5008 will be on display at the NADA Auto Show 2019 and is offered at a price tag of nepali Rs 1.38 Crore.