Rufus helps you bypass TPM and Secure Boot in Windows 11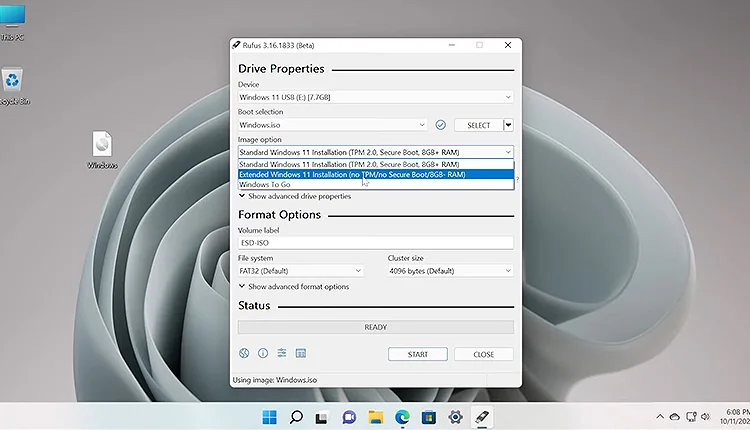 After testing how easy it is to circumvent Microsoft's unnecessary restrictions by installing Windows 11 on an unsupported PC, advancements arrive via Rufus, our go-to tool for building bootable installations on USB flash drives. Its latest beta version now offers Windows 11's option for "extended installations," which bypasses TPM and Secure Boot in addition to the minimum RAM requirement.
Microsoft says "you can't," but users show them otherwise. If you want Windows 11 now, you should probably skip its new requirements, TPM 2.0 and Secure Boot, because Redmond's masterminds recommend going out and buying new equipment while there is a semiconductor crisis and hardware availability (you only have to look at news about containers stuck in Los Angeles to see how serious the problem is).
There is a new build of Rufus, Rufus 3.16, which includes support for Windows 11 "extended installations." What exactly does that entail? Pre-configuring a Windows 11 image so that TPM and Secure Boot are automatically bypassed.
How to bypass TPM and Secure Boot in Windows 11 with Rufus
Download the ISO image from Windows 11,or use the Download feature of Rufus.
Under Image Options, select "Extended Windows 11 Installation".
Confirm that you have selected the correct pendrive, and click Get Started.
Hold on.
You must disable Secure Boot (if present), or set an exception for removable drives in the BIOS (if you allow it) before installing Windows 11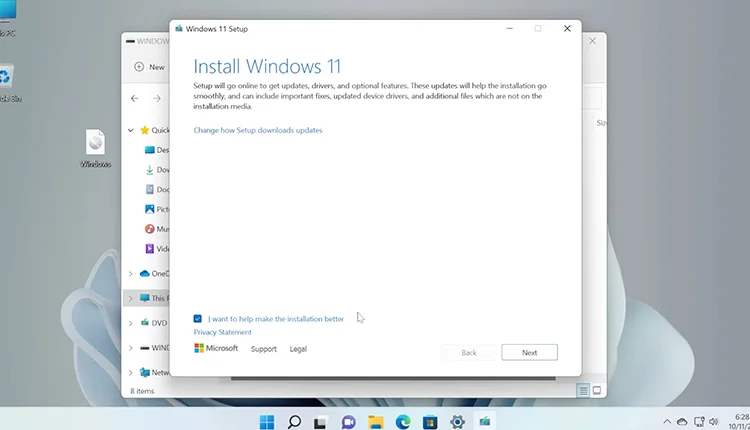 One detail to keep in mind is that Rufus doesn't just skip TPM and Secure Boot in Windows 11,but also overrides the RAM check. Windows 11 is supposed to run on a 4GB dock, but if for some reason you want to experiment with less than that, you'll be able to do so using this modified image.
I imagine that version 3.16 of Rufus will reach its final build very soon, however, we have had no problems running its beta. The Windows 11 Extended Installation worked flawlessly, with no errors or warnings. What are you waiting for? Skipping TPM and Secure Boot in Windows 11 has never been easier,and all the heavy lifting is done by Rufus. Download a copy!
Download Rufus beta: Click here
Latest Rufus 3.19 features:
Add a new selection dialog for Windows 11 setup customization:

Secure Boot and TPM bypass have now been moved to this dialog
Also allows to bypass the mandatory requirement for a Microsoft account with Windows 11 22H2
(NB: Network MUST be temporarily disabled or unplugged for the local account creation to be proposed)
Also add an option to skip all collection questions (Sets all answers to "Don't allow")
Also add an option for setting internal drives offline with Windows To Go
Note: These customization options are only proposed when using a Windows 11 image.

Add support for distros using a nonstandard GRUB 2.0 prefix directory (openSUSE Live, GeckoLinux)
Add the ability to ignore USBs (See here for details)
Change drive listing to always list in increasing order of size
Update exceptions needed by Red Hat and derivatives for the 9.x releases
Update UEFI:NTFS drivers to latest
Reassign a letter for drives written in DD mode that don't have an ESP (e.g. CoreELEC)
Fix Windows refusing to mount Linux MBR partitions on FIXED drives
Fix support for multiextent files when Joliet is in use
Download Rufus 3.19 direct Link here