Samsung Washing Machines Price in Nepal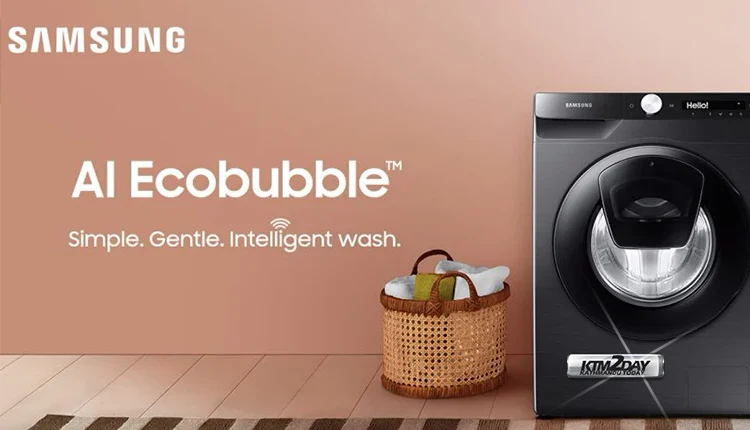 Samsung Washing Machines Price in Nepal
Electronics brand Samsung has unveiled a washing machine with AI control feature in Nepal.
Under its new lineup of 2022, the company has introduced fully artificial intelligence automatic front load washing machines.
These new AI bubble washing machines are equipped with new AI control features for an easy washing experience, while models with capacities up to 8 kg and 9 kg are available to suit the needs of the consumers.
The washing machines of 2022 are available in 4 new models and these models have features like AI control, eco-bubble technology and hygiene steam.
AI Control remembers and understands your washing style, as well as suggests the most suitable cycles using machine learning. It provides smart solutions such as laundry modes, laundry planning, homecare wizards and location based tips.
The 2022 washing machines are equipped with Samsung-specific EcoBubble technology, which provides 45 percent extra fabric care and helps save energy.
All new models are available with hygienic steam technology to ensure high quality cleaning and hygiene, which is capable of removing mold and 99.9 percent allergens and bacteria.
The starting price of these machines has been fixed at Rs 117,990.
Consumers will be given 1 year warranty on AI EcoBubble washing machines and 10 year warranty on DTI motor.

Samsung Washing Machine Price in Nepal 2023
Image
Model-Specification
Price NRs.
WW12TP94DSX
Samsung 12Kg Front load Washing Machine
Water Consumption : 78 Liters, 4tikcs efficiency
Design & Material : Inox body color, Silver tint door,
AI controlled- LED Display panel
Power : Power Source:230V/50Hz,
Consumption: 2000watt, 2400watt
Features : AI Control , AI wash, Quick Drive, Auto detergent,
Add wash, VRT Plus, Smart things, Eco bubble technology with bubble soak,
Ceramic Heater+, Digital Inverter motor(10 year warranty & 23year of Durability
certification by VDE),Super speed wash, Smart control, Hygiene Steam,
My cycle, Smart check, Door lock, stay Clean drawer,1400RPM Speed motor.
1,27,000
WD12TP44DSX - Washer Dryer
Samsung 12Kg Front load Washer 8Kg Dryer Machine
Design & material : Inox Body Color, Tint Door
+ Silver Deco Door,AI Control Panel
Water rating : 78* Liters, 4 ticks
Power : Power Source: 230 V/50 Hz,
Power Consumption (Max): 2000 Watt - 2400 Watt
Features : AI Control, AI Wash(Smart Things app),
Quick Drive, Auto Dispenser,Eco-bubble Technology™ with Bubble Soak,
Hygiene Steam, Ceramic heater,Digital Inverter Motor(-10 Years of Warranty
& 20 years of durability Certification by VDE),VRT PLUS™, Smart Control,
Swirl Drum, My Cycle, Stay Clean Drawer, Super Speed,Dry level(-59 min.
Wash and Dry, Time Dry(30min to 4.5 hour), Speed Wash and Dry),
Drum Clean Plus, Voltage Control (-165V to 400V), Child Lock,
Delay End (-3 hours to 19 hours),1400 RPM Speed motor, Big Door
1,37,000
WD80T604DBX - Washer Dryer
Samsung Front Load Washing machine
Capacity: 8kg wash/6kg dry
Water Consumption: 58 liters
Design & Material: Inox body color, Black tint door, AI Controlled - LED Display Panel
Power:( Power source:230V/50Hz) Power consumption (min 150watt-600watt, Max:2000watt-2400watt)
Features:Air Wash, Smart things( Laundry recipe, Laundry planner, Home care wizard, Going Out Mode), Multilingual control panel, Voice control(Bixby, google assistant, alexa), Eco bubble technology with bubble soak, ceramic heater, Digital Inverter Motor(10 year warranty & 23 Years of durability certification By VDE), Super speed wash (59min), Smart control, Hygiene steam, My cycle, Smart Check, Time Dry, Stay clean Drawer, voltage control(165v-400v)1400RPM
1,01,000
WW81J54E0BX
Samsung 8kg Front load Washing Machine
Digital inverter motor,10yrs warranty on motor
Diamond drum, ceramic heater, Daily wash
1400RPM, Child lock
79,500
WV16M9945KV
Samsung 16Kg Front load Washing Machine
Capacity: 16kg lower, 3.5Kg upper
Water Rating : 4star
Design and material : Black stainless body color, Crystalline blue
door color with add wash, separate AI LED Display for both washers
Power : Power source ( 230V/50Hz)
Max power consumption : 360 Watt to 2000 Watt
Features : Add wash, Eco bubble technology, (Power foam),
Digital Inverter motor, (10 year warranty & 20 years of durability
certification by VDE, VRT plus, Interior Drum light) , Eco drum clean, Diamond drum,
Quick wash,Smart control and check, Voltage control, Delay end ( 3-10hour),
100RPM(lower washer), 700RPM for upper washer),
2,44,990
WD80J6410AS
Samsung 8kg Front load Washing Machine
8kg washer and 6kg dryer combo,
Digital inverter motor,
10yrs warranty on motor,
Eco-bubble technology,1400 RPM,
diamond drum,ceramic heater
1,09,990
WW80J4213GS
Samsung 8kg Front load Washing Machine
Digital inverter motor, 10yrs warranty on motor,
Eco-bubble technology, diamond drum, ceramic heater, 1200RPM
79,000
WW71J42GOKW
Samsung 7Kg Front load Washing Machine
Design: White body color, white door, LED Panel Display
Feature:Ceramic heater, Child lock, Delay End,
Diamond Drum, DIT Motor,Smart check,1200 RPM
68,990
WW80T3040WW
Samsung 8 Kg Front Load Washing Machine
Power : Power Source: 230 V/50 Hz,
Power Consumption (Max): 2000 Watt - 2400 Watt
Features : Digital Inverter Motor(10 Years of Warranty
& 23 years of durability Certification by VDE), Fault Check
Indicator, Eco Drum Clean, Voltage Control (165V to 400V),
Child Lock, Delay End (3 hours to 19 hours), Diamond Drum,
1400 RPM Speed motor

64,000
WW71J42E0BX
Samsung 7kg front loading washing machine
Design:Inox body color,Crystal Gloss blue door,LED Display panel
Features:Bubble soak,Ceramic heater,Child lock,
Smart Check, 1200RPM,Diamond drum
Hygiene steam:Remove ingrained dirt and 99.9% bacteria and allergens
64,000
WW70J4263GS
Samsung 7Kg Front load Washing Machine
Washing Capacity (Kg) : 7
Design : Silver body color, Crystal Gloss Door, LED Display Panel
Water Consumption : 48 Liters
Power source : 230V/50Hz,
Power Consumption : ( Min 150watt-450watt) ( Max : 2000watt-2400watt)
Features: Eco bubble technology with bubble soak, Voltage Control(165V to 450V),
Smart Check, Child lock, Delay End(3hours-9hours), Diamond Drum, 1200RPM speed motor, Transparent door
72,990
WW12H8420EW
Samsung 12kg Front load Washing Machine
Water Consumption: 76 Liters
Design & Material : White body color, Crystal blue door color, Color LCD Display Panel
Power Consumption: Min(150watt - 600watt) Max ( 2000watt-2400watt)
Features: Eco bubble technology with Bubble soak, ceramic heater,
Digital Inverter motor (10year warranty & 20years of reliability certified by VDE),
VRT plus, Eco drum clean, Swirl drum, Interior Drum Light,
Prefer mode( Eco, speed, silent), Smart Check, Eco Check,
Voltage control (-165v to 400v), Child lock, Delay end, 1400RPM

1,62,990
WW81J54EOIW
Samsung 8 Kg Front load Washing Machine
8kg White Body, 1400RPM
Digital Inverter motor
(10year warranty and 21year of reliability tested by VDE)
Eco bubble technology
71,700
WW81K54E0WW
Samsung 8kg Front load Washing Machine
Design: ( Inox Body Color, Crystal Gloss Blue Door, Led Display Panel)
Power: ( 230V/50Hz)
Power Consumption: (Min 150watt-600watt and max 2000watt - 2400watt)
5star rating, Eco bubble technology with bubble soak,
Ceramic Heater, Smart Check, Child lock, Voltage control
Delay end( 3hours - 9hours)Digital Inverter motor
(10 year Warranty and 20year reliability tested by VDE)
94,990
WD12H8420GX
Samsung 12kg Front load Washing Machine
Digital Inverter motor- 10yrs warranty on motor,
Eco bubble, 1400 RPM, Diamond drum, Smart check,
VRT plus, Deodorization, Eco drum clean
1,84,990
WW12H8420EX
Samsung 12kg Front load Washing Machine
Digital Inverter motor-10yrs warranty on motor,
Eco bubble, 1400 RPM, Diamond drum, Ceramic Heater
1,62,990
WW90M6450PX
Samsung 9kg Front load Washing Machine
Q-Drive,Add wash,WiFi Embedded,Bubble Technology,
Bubble wash, DIT Motor- 10 yrs warranty,
1400 RPM, 15' quick wash,Smart things Apps

1,39,990
WW91K54E0UX
Samsung 9kg Front load Washing Machine
Steam Hygiene, Add Wash, Eco bubble, DIM Motor
10 Yrs warranty,1400 RPM,Ceramic Heater,
smart check, Inox body, black- jog dial, display
91,500
WW90M6450PO
Samsung 9kg Front load Washing Machine
Q-Drive, Add wash, WiFi Embedded, Bubble Technology,
Bubble wash, DIT Motor- 10 yrs warranty, 1400 RPM,
15 Minute quick wash,Smart things Apps

1,36,990
WW90K6410QS
Samsung 9kg Front load Washing Machine
Add wash, Digital Inverter motor- 10yrs warranty on motor,
Eco bubble, 1400 RPM, Diamond drum, Ceramic Heater
1,14,990
WW80J4233KW
Samsung 8kg Front load Washing Machine
Digital inverter motor, 10yrs warranty on motor,
diamond drum, ceramic heater, quick wash,
wool wash, super spin wash, eco drum clean,
dark garment outdoor care
73,490
WW80J3237KW
Samsung 8kg Front load Washing Machine
Digital inverter motor, 10yrs warranty on motor,
diamond drum, ceramic heater, quick wash,
wool wash ,1200 RPM

64,000
WW80J5410GX
Samsung 8kg Front load Washing Machine
Digital inverter motor, 10yrs warranty on motor,
Eco-bubble technology, diamond drum,
ceramic heater, eco clean, quick 15
90,990
WA70N4560SS/IM
Samsung 7kg Top load Washing Machine
(7+1)KG, Digital Inverter motor- 10yrs warranty on motor,
Active Wash+, Diamond drum, Wobble Pulsator,
Air Turbo Drying system, Eco tub clean, Aqua preserve
42,000
WT70M3200HB
Samsung 7Kg Semi-Automatic Washing Machine
Design(Inox Body Color, Crystal Gloss blue door)
Power Source (230V/50Hz), Power Consumption (Max: 460watt)
Features( 5star rating, Air Turbo, Caster Wheel,, magic Filter
22,000
Samsung Washing Machine Price in Nepal - Updated on January 2023
Also Check : LG Washing Machines Price in Nepal