Seagate SkyHawk AI 20 TB HDD Launched in India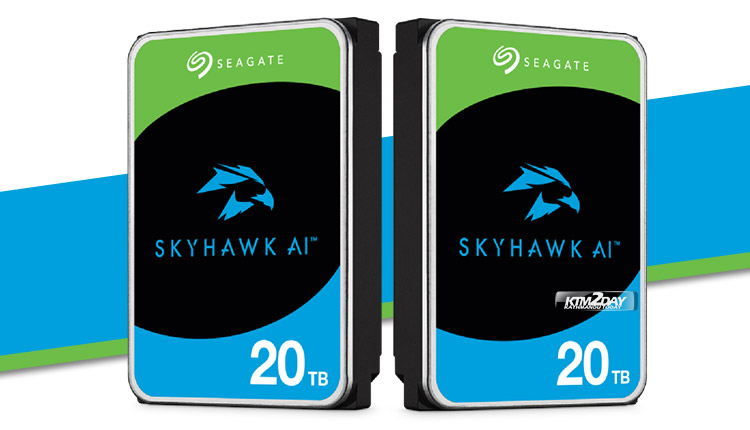 In India, Seagate has introduced the SkyHawk AI 20TB HDD. Designed for network video recorders (NVRs), the HDD supports multiple video and AI streams and is constructed with ImagePerfect AI firmware, the company's newest video imaging and analytics technology. This week, the ISC West security trade event in Las Vegas, Nevada, introduced the SkyHawk AI 20TB.
Seagate SkyHawk AI 20TB HDD specs and features
For edge security applications, Seagate says the SkyHawk AI 20TB is designed for network video recorders with AI capabilities. Up to 64 HD camera streams and 32 AI feeds can be supported by the SkyHawk HDD.
SkyHawk AI 20TB has ImagePerfect AI firmware and claims to deliver 0% lost frames while handling greater workloads. According to Seagate, their storage device has an MTBF of two million hours and a yearly workload rating of 550 terabytes (TB), more than three times the yearly TB of a conventional video imaging and analysis (VIA) drive. The device has a 3.5-inch size.
The HDD is equipped with SkyHawk Health Management, which monitors environmental and usage conditions and recommends preventative actions whenever necessary, thus protecting users' VIA storage. Rescue Data Recovery Services are also available from SkyHawk AI, allowing users to recover data that has been lost due to power failures, user error, and other circumstances. Data recovery is included in the hard drive's 5-year warranty.
Seagate SkyHawk AI 20 TB HDD Price in Nepal
A 20-terabyte SkyHawk AI HDD from Seagate's distributor, Prama India, would be offered in India for an MRP of INR 54,999(NRs 87,999). According to Seagate, the HDD will begin shipping in large quantities later this month and be available for purchase in India shortly thereafter.