The Urban Space : European Style Housing with Gas Pipeline and Central Heating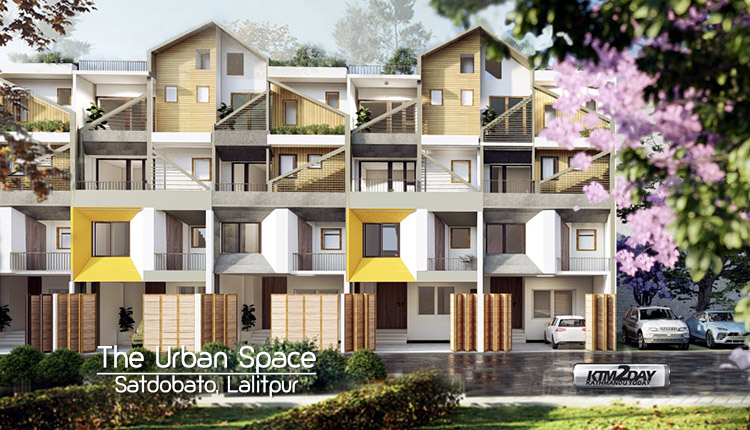 'The Urban Space' is going to build European style housing for the first time in Nepal at Satdobato in Lalitpur. The Urban Space Company has started construction of European style housing on 3 ropanis of land with the objective of providing a new concept of housing in Nepal.
Former Miss Nepal Shrinkhala Khatiwada and founder of 'Urban Space' Bipin Gare laid the foundation stone of the city at Satdobato in Lalitpur on Monday
Vipin Gaire, the founding engineer of The Urban Space, a longtime urban planner, has so far worked on more than 250 housing projects.
He claims that the housing that The Urban Space is going to build in Satdobato is technologically sound and advanced.
The government had brought the concept of smart city for the first time in 2074/75 BS to manage the unorganized settlement. According to the concept, no smart city has been built so far.
"Lately, the attraction of people has increased in infrastructure housing with safe and good environment," he said, "but that is no longer possible within the valley's ring road. Such projects with facility can be found but 4 to 5 km outside the ring road. The Urban Space has started this project which is just 200 meters outside ringroad at Satdobato accordingly."
People often choose accommodation close to school, office and hospital. He claims that Satdobato is suitable for the service.
Gaire said the construction was moved forward as an urban integration by managing the site near the ring road.
He also said that the design of the house is designed to look attractive on both the front and back of the house.
Shiva Kandel, Chief Branding Officer, Urban Space, says, 'Urban Space envisions a society without fences, especially in urban areas. That's why it's a global campaign, not just for urban planners, but for a wider audience that believes in sustainable development goals. "
Urban Space is a mix of bungalows and housing. There will be separate entrances for each houses. The purpose of the urban space is to provide a pleasant urban life experience.
The 'Urban Space' is 200 meters outside the ring road in Lalitpur where there are 12 special houses. Urban space has facilities including earthquake resistant, 24 hour water supply and gas connection through pipelines.
The team had discussions with more than 100 professionals from more than 50 countries to successfully launch the concept of Row Houses in Nepal through Urban Space project.
Facilities
Gaire claims that The Urban Space has used new technology in housing for the first time in Nepal. Each house will be constructed in an area of ​​3 annas. In addition, the area of 8 annas of land will be made accessible to 11 households. The common place can be used by childrens to play and relax.
He claims that the housing project, which was started as a pilot project, has brought European Standard Comfort Safety for the first time in Nepal.
He said that considering the risk of fire, the company has also used the European standard fire fighting system.
The Urban Space has set up a firewalls to prevent fires in from spreading inside the housing. In addition, smoke detectors and heat detectors will be provided in every house.
"Smoke detectors and heat detectors will be installed, 'he said,' if anything wrong happens in any house, there will be a beeping siren. If there is a bigger fire, it can be extinguished with a fire hydrants system. '
The houses built will be completely insulated for added comfort. The walls will be insulated with fire-proof lining while the windows will be installed with double glazed glasses. The Urban Space will use double glazed glasses with two panes, separated by an air filled cavity in-between to protect from thermal and acoustic disturbance.
The Urban Space is going to build a 3 storey house according to the needs of the people. Also, plants will be used for indoor-outdoor, front-to-back decoration of the house.
The project is planned in such a way that each housing unit will get ample sunlight and air circulation. Also the design of houses will conceal the ugly water tank as seen in most urban homes.
Similarly, there will be a 24 hour water supply facility inside the housing using automatic water pumps.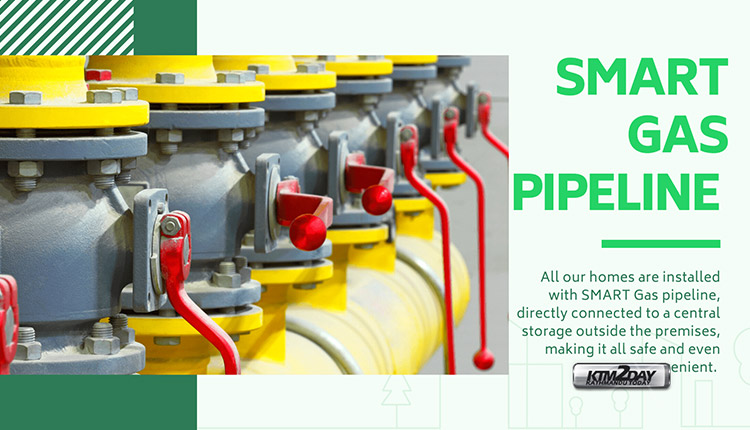 Smart Gas Pipeline
The residents of The Urban Space will no longer need to worry about gas cylinders. The project will build a smart gas pipeline connecting all 11 houses to a central supply system. Compared to traditional 15 kg gas cylinders used by common households, the project will supply gas through pipeline to each housing units from a central distribution system using a 425 kg commercial cylinder which will be built by partnering with Nepal Gas.
Each houses will have a smart gas meter installed and the monthly gas charges can be checked via a smartphone. Residents can easily prepay the charges for their usages per month.
Central Heating System
Along with these various unheard features, another feature that this project will be introducing for the first time in Nepal will be Central Heating System. With the facility of Central Heating System individual house residents need not worry about buying and installing split system air conditioners in their homes.
Each houses will be installed with Italian cental heating technology shipped all the way from Europe. Hence, temperature of each rooms can be controlled according to the outside weather.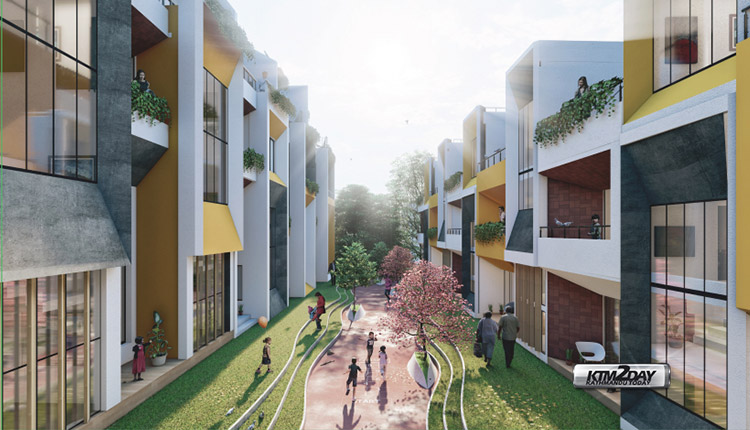 Price starts at 3 Crore 60 Lakhs
The Urban Space will make each individual houses on an area of 3 annas of land. The house will have 3 floors each. However, residents can actually make use of 11 annas of land.
"A house will be built in 3 annas and a there will be a common backyard of 8 annas," he said.
The value of the house being constructed by the company has been set at Rs 36 million. According to Gaire, the price is acceptable for a modern house equipped with several high-end facilities. He said that the company has opened bookings since last month and has accepted five bookings so far.
Right before the construction, he has been getting good response from the customers. He also said that the house will be completed by next Baishakh (2079 BS) and handed over to the owners.