Vianet customers to get free access to Midas E-Class for 1 Month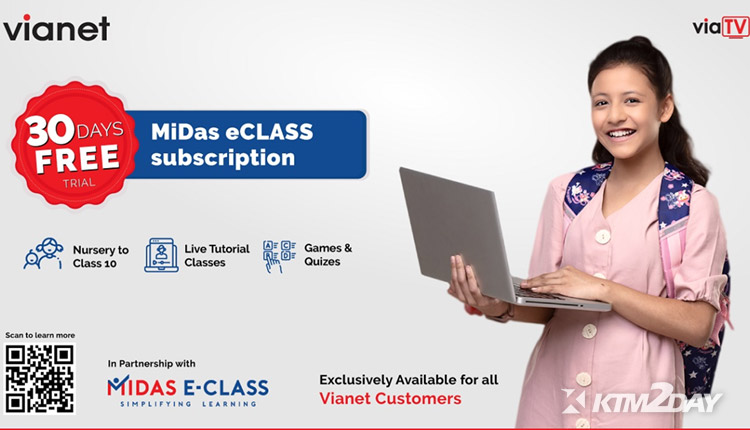 Internet service provider Vianet has partnered with Midas Education, a pioneer in e-learning in Nepal, to accelerate the digital learning experience of school children. With this collaboration, all Vianet customers will be able to run Midas E-Class learning package for one month for free.
Midas E-Class, a government-certified course for nursery to class 10, can be used on Android mobiles and laptops through the website.
The company says that the service, which includes various tutorial videos, quizzes and various interactive programs, will make online learning more comfortable and enjoyable. 
Midas E-Class also features live tutoring, so teachers can teach their students live and interact with the students. 
It is hoped that this collaboration will be of great benefit to all the students who are preparing for the exams at a time when SEE is considered as an iron door for the students studying in the school.
Vianet will allow its customers to run Midas E-Class for free for one month till Baisakh 2079 BS. For this, Vianet customers have to claim Midas E-Class offer by logging in through the Vianet customer portal or Vianet mobile app.
Known for its high speed internet and IPTV services, Vianet has been partnering with leading organizations in Nepal and abroad to provide its customers with a great digital experience.