Vianet introduces 100 Mbps internet in Speedy offer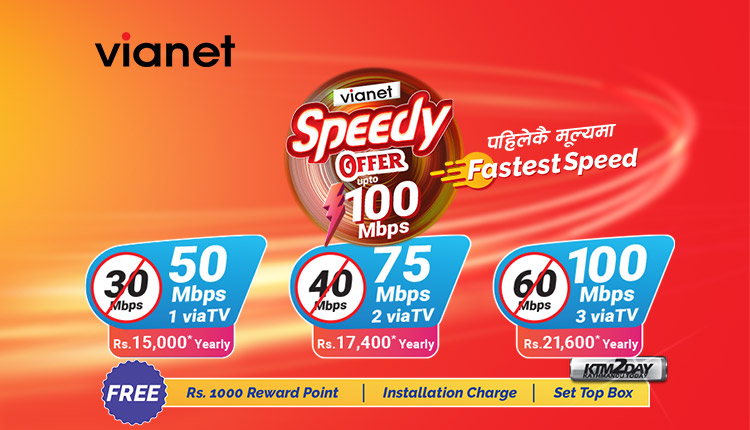 Internet service provider Vianet has introduced a Speedy offer plan.
The ISP company which has been providing high speed internet connectivity and communication solutions for commercial and personal purposes across Nepal has come up with a new plan to provide super speed internet to the customers at affordable prices.
The company has stated that the customer can get speeds up to 100 Mbps in the Vianet Speedy ​​offer.
Under this offer, new and renewed annual customers will get 50 Mbps at the price of 30 Mbps, 75 Mbps at 40 Mbps and 100 Mbps at 60 Mbps .
Additionally customers can also get Rs 1000 worth of reward points, free installation and free setup box under this offer.
To get this offer, new and existing customers will simply have to sign up for Speedy offer annual package.
Depending on the package signed up, customers will get free viaTV with 1 to 3 tv connections.
Vianet is providing Speedy Offer with 100 Mbps speed at Rs 21,600 per year excluding taxes. Similarly, a 75 Mbps package costs Rs 17,400 and 50 Mbps package costs Rs 15,000.
The offer is valid for a limited time only, the company said.