Golf Tourism in Nepal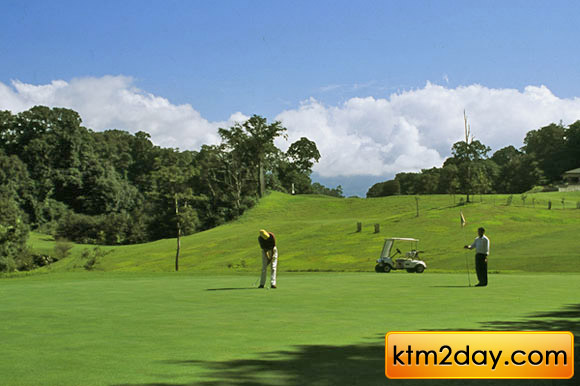 Nepal is developing slowly as an attractive destination for golf tourism. Statistics of Gorkarna Forest Resort, which boasts of an exclusive par 72 golf course, show an increasing number of foreign tourists are visiting Nepal to play golf.
Around 5,300 tourists played golf in the resort in 2009, an increase of 27.31 percent. "We're aiming at attracting 50 percent more golf playing tourists this year," said Deepak Acharya, professional golfer and the golf director of Gokarna Golf Course. "Golfers get amazed with the beautiful location on the lap of the Himalayas."
According to Acharya, Gokarna Golf Course receives golfers from India and the Middle East. "Golf tourism in Nepal is likely to be expanded as we do promotional activities in Thailand, Malaysia, Korea, Japan, India and the Middle-East," added Acharya. The travel trade industry also started promoting Nepal as golf destination. One such instance is tie-up between Nepal Golf Association and Yeti Travels.
Both the organisations have formed a strategic alliance to promote Nepal as a golfing destination. With national campaign of Nepal Tourism Year (NTY-2011) coming around the corner, stakeholders associated with golf and travel trade say emphasis should be given to develop golf tourism in Nepal. Nepal participated in the international golf tourism market held in November 2009 in the southern Spanish province of Malaga.
As of now, there are seven golf courses in the country, four of them outside of the Kathmandu valley. According to travel entrepreneurs, golf tourists spend on an average US $ 400-500 per day, roughly seven times more that what an average tourist spends.
While chairing National Tourism Council (NTC) meeting, Prime Minister Madhav Kumar Nepal had highlighted on developing golf tourism as a potential tourism product. However, efforts by the stakeholders to start training centres have got a muted response from the concerned ministry.
Tashi Ghale, president of Nepal Golf Association, said that the association had floated a proposal seeking 10-15 ropanis of land to set up training centers at the Ministry of Tourism and Civil Aviation but it was reluctant to the proposal.
David Yonzan of Yeti Travels and Tours said that there was tremendous potential of golf tourism in Nepal. However, tourists across the world are not aware of Nepal as an exciting golfing destination. "This sector needs to be branded as a particular destination," he added. The travel agency is making promotional video on Nepali golf. In order to bring international golfers, Yeti Travels has promoted its package with golf association of Singapore, Thailand, South Korea and Malaysia.
(Source: Ekantipur)