Etihad Airways starts flight from Kathmandu to Nagoya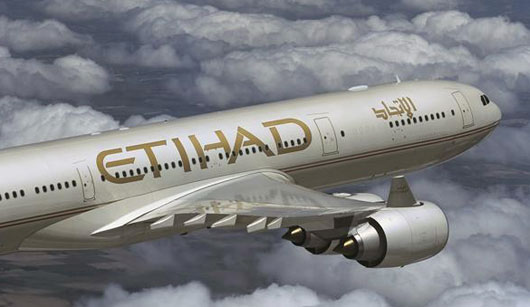 Etihad Airways, the national airline of United Arab Emirates, has started a non-stop flights from Abu Dhabi to Tokyo making it more convienient for the passengers to fly to and from Tokyo linking Kathmandu.
The daily flights will link Kathmandu with Abu Dhabi and Tokyo very conveniently without passengers having to wait for hours in transit.
The inaugural flight — EY878 — departed Abu Dhabi on March 27 and landed at Narita Airport in Tokyo yesterday making it the first Middle Eastern airline to expand its service to the Japanese capital. The flights will be operated by three-class Airbus A330-200 aircraft and will feature in-flight services dedicated to the Japanese market, including a tailored menu, local in-flight entertainment content and cabin crew consisting of a number of Japanese speakers and nationals.
James Hogan, Etihad Airways' CEO said Etihad was delighted to be the first Middle Eastern carrier to operate to Tokyo, and was expecting a high volume of traffic on the route, particularly business travellers.
"We also believe the variety of high profile attractions opening in Abu Dhabi in the coming years, including Ferrari World, The Louvre Abu Dhabi and Guggenheim Abu Dhabi, will be very attractive to Japanese leisure travellers," he said, adding that Japan is a key market for Etihad.
—————————————————————————-
Feb 3,2010
Etihad Airways, the national carrier of the United Arab Emirates, commenced operations to Japan on February 2 with the launch of its Nagoya-Abu Dhabi service. According to the airways, Nepalis now can easily travel to Japan on this route.
Etihad will initially fly four times a week to Nagoya, via Beijing, increasing to five flights a week from 29 March, operating two-class Airbus A330 aircraft on the route.
Etihad Airways chief executive officer James Hogan said: "These new services, our first to Japan, are very important to Etihad. We believe the connection between Abu Dhabi and Nagoya will offer opportunities for tourism as well as foster commercial growth and benefit key industries particularly energy, environmental services and manufacturing, for which Nagoya is becoming a centre of excellence." Etihad will expand its Japan operations with the launch of Abu Dhabi-Tokyo services on March 27. With the addition of Nagoya and Tokyo to its network, Etihad offers services to eight destinations in the Far East (including Beijing, Jakarta, Manila, Singapore, Bangkok and Kuala Lumpur) and 60 worldwide.
In addition to its own operations, Etihad will also offer codeshare services with Japan's ANA from March 1, offering connections for Etihad passengers from Nagoya to Chitose and Fukuoka and through Tokyo's Narita Airport to Osaka. For ANA passengers, connections to Etihad's worldwide network is via its Abu Dhabi hub.
In addition to codesharing, a mileage tie-up programme and combination of passenger services will be implemented as part of the agreement. Established seven years ago, Etihad Airways will launch its 60th destination in 2010.