Hotel developers find new opportunities in Lumbini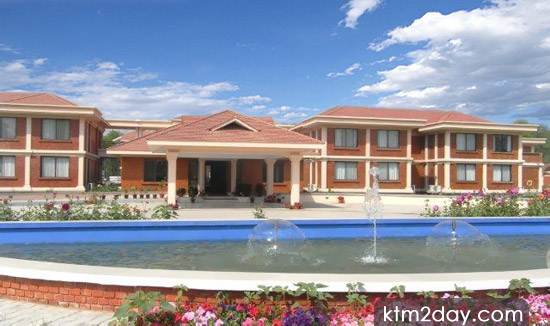 The trend of building hotels with modern facilities has intensified in Lumbini following an increase in the influx of tourists.
Even foreign investors are showing an interest in opening hotels to cater for the growing number of pilgrims visiting the Buddha's birthplace.
Lumbini Hotel Kasai, built by a Japanese investor Norbu Kasai, has recently come into operation. Established at a cost of US$ 5 million, the property exhibits a combination of Japanese and European architectural designs.
Managing director Kenta Nagai, a Japanese national, said the hotel's aim was to host pilgrims and tourists coming to visit the Buddha's birthplace. "Apart from the commercial aspect, we were inspired to build the hotel as this is the birthplace of the Buddha," he said.
Sri Lankan Pilgrim Rest, constructed with an investment by the government of Sri Lanka, is slated to reopen soon under new management from the Sri Lankan government. The hotel had closed as a result of poor management by a Nepali group. The Hokke Hotel, built in Japanese architectural style with an investment by the Hokke Club, Japan, is managed by an Indian private company.
In addition to these properties built with foreign investment, Lumbini contains a number of hotels built with domestic investment including Lumbini Bamboo Resort Pali, Buddha Maya and the Crystal. Hari Dhwoj Rai, an official of the Lumbini Development Trust (LDT), said that in the past, visitors had to stay overnight in Bhairahawa which is 22 km away due to lack of quality accommodation in Lumbini.
According to Sunil Dahal, an officer of the LDT, a private company from China is planning to construct a five-star hotel in the region.
Lumbini is one of the main destinations for millions of Buddhist pilgrims from around the world. An international airport is being built at Bhairahawa which has also spurred investment in the hotel sector in Lumbini. According to LDT statistics, 42,558 foreign tourists visited Lumbini as of July 2010. Lumbini hosted 82,445 tourists in 2009, 82,075 in 2008 and 71,053 in 2007.(Source:ekantipur)