Chinese EV's launched in domestic market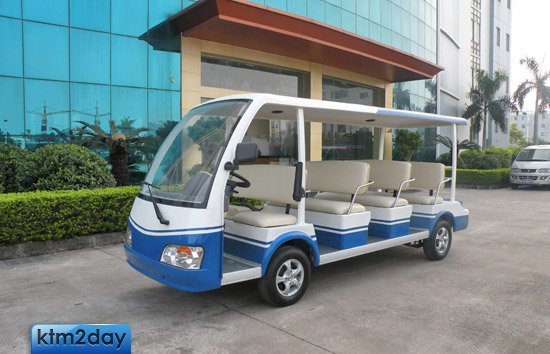 With pressure mounting for green revolution, the four wheeler market in the country is seeing the launch of electric vehicles. Recently, four models of electric vehicles (two car models and two bus models) were launched in the domestic market.
Nevi Trade Link Private Limited (NTL) has introduced four models of Chinese electric vehicles that run on electric batteries.
According to Kiran Kumar Rauniyar, technical manager of NTL, both the cars (Bijuli I and Bijuli II) are equipped with full option facilities including CD player, power steering, remote control door lock system, heating system, power brake and anti-lock braking system. "In addition, Bijuli II is equipped with air bag for safety measures," he said.
Nevi Trade Link has for the first time introduced vehicles for mass transport. It has launched two electric bus models – Safa I and Safa II. According to Rauniyar, Safa I is a closed body model whereas Safa II is an opened body model. He said these are suitable for public transportation, tourism related enterprises and business houses.
The batteries of these vehicles have to be charged for 8 to 10 hours for a fully charge. The batteries can be charged on a single phase line which is available in normal households. "These batteries have lifetime of 700 cycles," said Rauniyar.
The cars possess in-built battery chargers while the buses have external chargers. According to NTL, the cars can give a mileage of 150 km and the buses have a mileage of 100 km with fully charged batteries.
Bijuli I and Bijuli II are 4-seater and 5-seater vehicles, respectively whereas the buses are 14-seaters. NTL offers one year warranty on all these vehicles. The maximum speed of the buses is 40 kilometres per hour while Bijuli I and Bijuli II have maximum speed up to 65 and 105 km per hour, respectively.
"Many people are attracted to these vehicles as they have longer life and low maintenance cost in comparison to petrol and diesel run vehicles," said Rauniyar. "In addition, people can benefit from tax subsidies as the government has completely waived the annual tax on these vehicles."
The company also has provision for spare parts. According to Rauniyar, the company has ample stock of major spare parts available in its showroom itself. It is establishing a service centre within a month at Gairidhara.