Heavy congestion at TIA causes flight delays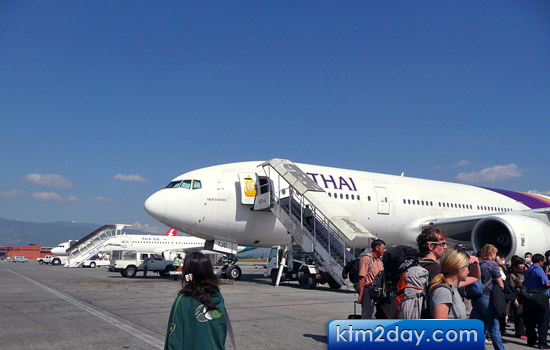 The rise in the movement of international and domestic aircraft has created a heavy congestion in the Tribhuvan International Airport (TIA). The domestic airline companies have been forced to delay their flights by over an hour daily.
Domestic aircraft have to wait for more than 45 minutes for take-off and hold around 15-20 minutes in the sky waiting for landing permissions in the TIA. The domestic air operators say it has increased their cost of operation on one hand, while they are forced to face the wrath of passengers on the other.
With the resurgence of tourism, a large number of foreign airlines has started flights to Nepal. The TIA is now handling over 27 international airlines and it is expected that the international connection will go up to 32 soon. The TIA, which has been designed to process a maximum of 30 aircraft per hour through a single runway, is now processing over 41 aircraft an hour. With such a rise in the movement, the TIA was compelled to handle 434 aircraft movement in a single day recently.
Domestic airlines operators said that the congestion problem is more in the morning because of mountain flights. The congestion is more
severe during October and November when large numbers of tourists opt for mountain flights and travel to Lukla, Pokhara and other tourist destinations.
The delay problem is more acute for aircraft flying in instrument flight rules (IFR) system. The IFR flyer normally have to wait for more than one hour for take-off. Given the hostile geographical terrain of Nepal, most flights use the IFR system. For the visual flight rules (VFR), which allow a pilot to operate an aircraft in weather conditions generally clear enough, the aircraft is delayed by almost 45 minutes everyday due to busy air schedule.
"An aircraft which used to make 14 round-trip each day is now doing only 10 roundtrips due to airport congestion," said Rupesh Joshi, marketing manager of Buddha Air, which operates 45-50 flights every day.
Yeti Airlines and its sister airline Tara Air that has over 60-70 flights each day said they are compelled to operate their flights more often. "If an international aircraft is landing, a domestic one has to wait for over 45 minutes to take off. The airline cost surges when it is compelled to wait after the aircraft engine has started for take-off," said Binay Shakya, manager of Yeti Airlines.
According to Shakya, a one-minute wait means losing fuel worth Rs 1,700. One aircraft consumes fuel worth US$ 2,720 per hour. "The deficit is more while the aircraft
is on hold in air," he added. He said the airlines are delayed mostly in the long-haul sector.
Pramod Pandey, marketing director of Agni Air said the airlines has a facility to operate during evenings under the IFR, which is the only alternative to reduce air traffic congestion, but passengers are reluctant to fly during the night. "This is a prime business season for the domestic airlines, but is not expected to pick up although demand from visitors is high," he said. Agni Air has over 24 flights including the daily mountain flight.
The TIA management says it can't do much. According to TIA General Manager Dinesh Shrestha, the TIA is forced to hold the aircraft or delay take-off every day considering their safety. "Airline movement is increasing, but we have to process both domestic and international airlines at the same time from a single runway," Shrestha said.
Shrestha added that the TIA cannot afford more flight movement as the airport space is limited. The congestion at the country's sole international airport has forced policy makers to look for one more international airport.
The government has speeded up the process to develop a second international airport at Nighgadh in Bara and a regional international airport in Bhairahawa and Pokhara. They are still at the planning stage.