Nepal took part in the 31st World Travel Market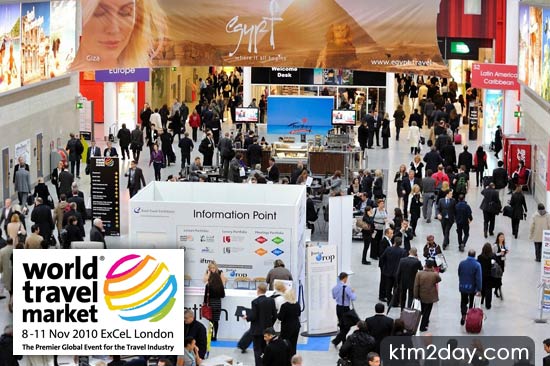 Nepal Tourism Board (NTB) and two dozen travel trade companies of Nepal took part in the 31st World Travel Market (WTM) 2010 from November 8-11 at ExCeL, London.
WTM is a leading global platform for the travel trade professionals to meet, network, negotiate and conduct business. The event is organised in London every year.
The Nepal stand that covered a space of 130 square metres was successful in depicting the country's unique tourism products ranging from the culture and nature to adventures. It was customized in order to disseminate information about Nepal's tourism attractions and specially the Nepal Tourism Year 2011 (NTY 2011), a press release issued by NTB said.
At the mart, the Nepalese travel trade companies showcased their products to the global travel trade fraternity and furthered their business network, the release added.
The companies that participated at WTM 2010 included Ace the Himalaya Trekking, Amadablam Adventure, Asia Adventure Excursions, Dharma Adventure, Himalaya Kailash Travels and Tours, Himalayan Guides Nepal, Himland Adventure Trek, Hotel del' Annapurna / Fishtail Lodge, Intertours Nepal, Kailash Himalaya Trek, Karnali Excursions, Kopan Homestay Village, Luxury Adventure Nepal, Makalu Adventure, Nepal and Beyond Travels and Tours, Nepal Environmental Treks and Expeditions, Royal Mt. Trekking, Shangri-la Hotels and Resorts, Shangrila Tours, Unique Adventure International Treks, The Everest Hotel, The Explore Nepal, The Malla Hotel and Yeti Travels.
Meanwhile, on the 10th of November, the Embassy of Nepal and NTB co-hosted the NTY 2011 launch programme. The event aimed at promoting the upcoming national tourism campaign–NTY 2011– in the UK. More than a hundred members of the UK tourism industry, entrepreneurs, summiteers, tour operators and airlines, journalists, among others, attended the gathering.
Welcoming the guests, Ambassador of Nepal to the UK Dr. Suresh Chandra Chalise said that the event had the objectives of felicitating Everest and Dhaulagiri summiteers, recognizing commendable works of friends in promoting NTY 2011 and offering a platform for sharing ideas and information among Nepal's friends to promote the country in a more concerted way.
He also urged the participant guests to lay additional focus on a variety of tourism products that Nepal has to offer.
At the gathering, Diwakar B. Rana, Manager, Tourism Marketing & Promotion Department of NTB, made a presentation on Nepal and NTY 2011.
He also highlighted special measures and initiatives being taken by the Government of Nepal and NTB for organising NTY 2011 in a more effective manner.
Khagendra Thapa Magar, who is officially recognized as the world's shortest man by the Guinness Book of World Records, was introduced as the brand ambassador of NTY 2011 to the guests.
Dr. Chalise felicitated the summiteers of Mt. Everest and Mt. Dhaulagiri, who were present at the programme.
The summiteers were also appointed Goodwill Ambassadors for NTY 2011 considering their extraordinary achievements. One of the summiteers, Alan Hinkes OBE, spoke of his climb of Mt. Everest and encouraged one and all to visit Nepal.