Machine Readable Passport will be costlier for migrant workers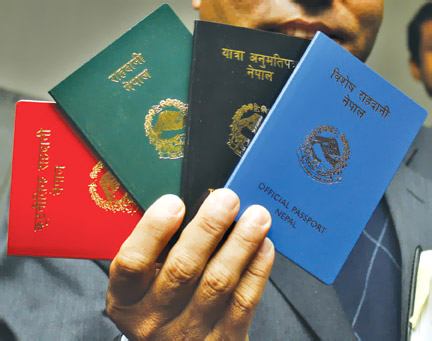 Machine Readable Passport (MRP) will be costlier for migrant workers as the passport distribution system is centralised in the Capital. The centralised distribution will cost an additional Rs 8'000 for a Nepali' seeking overseas jobs. Nepali migrant workers will have to spend at least Rs 3'000 in transportation to come to Kathmandu for a passport.
Each migrant worker has to travel to Kathmandu twice to apply and obtain the ready MRP. Ministry of Foreign Affair (MoFA) is issuing MRP in six to eight weeks after the application. They have to stay at least for four days in the Capital to comple the process' making them spend Rs 700 a day.
Likewise' they also have to spend at least Rs 1'000 on local transportation and others. At this rate' Nepali migrant workers will spend Rs 6.40 million daily and Rs 2.33 billion in a year just to get a passport at the current migration rate of 800 Nepalis per day.
According to Department of Foreign Employment (DoFE)' around 24'614 Nepalis had joined overseas jobs in Mangsir (mid-November to mid-December). Getting passport through Fast Track will also cannot provide relief to migrant workers because the process last at least a week.
In the process' a migrant worker has to spend additional Rs 7'500' comprising the expenditures of transportation (Rs 1'500)' boarding in Kathmandu (Rs 5'000)' and others (Rs 1'000). An applicant has to pay double-fee for a passport that costs Rs Rs 5'000. Earlier' before centralisation of passport distribution process in April 2009' Nepali migrant workers used to get passport in additional expenditure of Rs 500.
So' as a worker-sending country' Nepal has to distribute MRP at least from five development regions. Regional distribution system will significantly reduce the cost of the poor who are joining overseas jobs for bread and butter. We want to change the current distribution system and MRP should be available in regional headquarters' said Som Lal Bataju' president of Nepal Association for Foreign Employment Agencies (NAFEA).
It will reduce financial burden on migrant workers' he said. According to an estimate' migrant workers account for over 60 per cent of the 1'500 passports issued by MoFA. Above 75 per cent migrant workers get their passports made only weeks before their departure to destination countries.(Source:THT)