Nepal Tourism Year (NTY) 2011 off to a vibrant start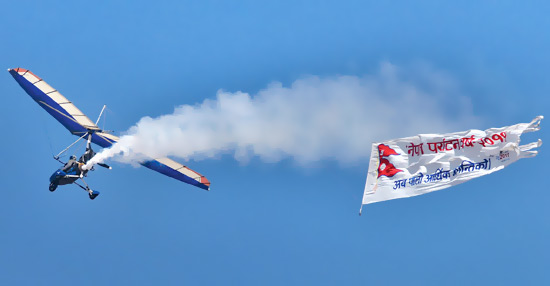 The much-awaited launch of the Nepal Tourism Year (NTY)-2011 took place in the Capital amidst a gala on Friday.
"I declare the formal launch of NTY-2011 that will help bring peace, prosperity and stability in the nation," President Ram Baran Yadav said at the inaugural function at Dasharath Stadium at Tripureshwor.
Rallies, motor paragliding, music and dance performances were the major attractions at the function that was attended by over 25,000 people including high-level government officials and international dignitaries.
More than 8,000 persons including school children, artistes, businesspersons and Nepal Army, Armed Police Force and Nepal Police personnel took part in the show.
The motor paragliding show was performed in the sky as balloons of myriad coloured flew to mark the grand opening of the programme.
Different shows and tableaux put up by various ethnic communities displayed their culture and tradition making them the major attraction of the programme. The shows also helped portray the country as one rich in culture and ethnicity.
From the Sherpa community in the Himalayas to the Maithali in the Tarai region, all took part in the rally displaying their rich culture and tradition. Other ethnic communities included the Sunuwars, Dhimals, Rajbanshis, Bhojpuris, Newars, Tamangs, Gurungs and Kshetris.
Students from Nightingale Boarding School and V.S Niketan Higher Secondary School in the Capital performed to the tunes of different national songs.
A 'Peace Flame' brought to Kathmandu from Lumbini, the birth place of Gautam Buddha, was lit inside the stadium.
Colourful dresses added to the grandeur of the ceremony as the audience cheered the performers and swayed to the deafening sound of music.
"This kind of a function showcasing the diverse culture and people gives us a glimpse of how people despite belonging to different culture, religion and tradition are living in harmony in the country," said Sunita Sharma, an audience.
Representatives from different sectors working to promote tourism in the country were present at the programme. Also present were representatives of government and non-government organisations from India, Bangladesh, Maldives, Bhutan, Combodia and Laos.
The NTY-2011 campaign aims to attract 1 million tourists to Nepal and boost the country's economy.(Source:ekantipur)