ISPs share infrastructure to compete with big telecom operators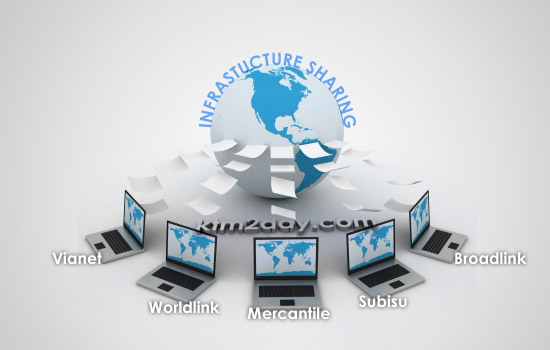 Internet service providers (ISPs) have come up with a new idea of infrastructure sharing to compete with big telecom operators offering data service. ISPs say they will use their infrastructure jointly to expand their service massively across the country.
Internet Service Providers Association of Nepal (ISPAN), the umbrella organisation of ISPs, has initiated an institutional effort in this regard. The massive expansion of ADSL service by Nepal Telecom and Ncell's Ncell Connect—a data service—has severely affected the market of ISPs.
Once a major contributor in offering data service to the general public, ISPs are now targeting the corporate segment to maintain a foothold in the market. Their general customers have declined significantly with the launch of ADSL two years ago. Binay Bohara, president of ISPAN, said they came up with the idea of infrastructure sharing in an attempt to reach different parts of the country with a minimum investment. "We will formulate an extensive plan for the joint use of infrastructure," he added.
There are around 45 ISPs in the country and are offering services using their own infrastructure. This has not only increased the cost for data service, but also has made it difficult for ISP to expand their service. ISPs said the new concept would bring down the price of data service, make the market more competitive and slash the investment cost for taking the service in new locations.
Bohara said if at least four major ISPs start using their infrastructure commonly, investments being made in infrastructure can be brought down by 75 percent. "The saved money can be used for building infrastructure in new areas for service expansion," he said.
Mercantile Communications, World Link Communications, Vianet, Subisu and Broadlink are some of the major ISPs of the country. They have invested an estimated Rs 1 billion in this sector.
Pawan Shakya, past president of the ISPAN, said infrastructure sharing can be a best tool to expand data service in rural as well as urban areas. "There are no alternatives to sharing infrastructure, if we want a massive expansion in data service," said Shakya, who also works for World Link.
Nepal Telecommunications Authority—regulator of the telecom sector—has formed a team comprising representatives from telecom service operators and ISPs to conduct a study on infrastructure sharing. However, the team is yet to prepare and submit the proposal to the authority.