Nepal Airlines to start direct flights to Doha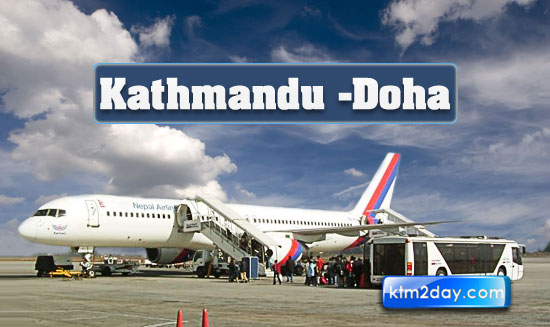 Nepal Airlines Corporation (NAC) is starting Kathmandu-Doha-Kathmandu direct flight from September.
"Apart from, direct flight to Doha, the airlines is also planning to start Kathmandu-Riyad or Kathmandu-Damam flights, whichever is financially more viable," said spokesperson of the NAC captain OB Gurung.
The national flag carrier has prepared a two-pronged strategy, while planning for the new routes. "If the new aircraft purchase process expedites and NAC can add two new aircrafts, we will take one more aircraft on dry lease and start new routes," he said, adding that the second strategy will be to reduce current flights that have low occupancy and start new routes.
The corporation has also formed a committee — including trade union representatives — to suggest on buying new aircraft for the ailing national flag carrier that has only two age old Boeings. "There will be a high level committee that will decide on aircraft purchase but this committee will prepare primary report to help them take informed decision," Gurung added.
The committee — led by Dr Kiran Poudel of Commercial Department at NAC — will present its report within 45 days.
However, according to Dhurba Narayan Shrestha, coordinator of Alliance for National Carrier Purchase and member of Nepal Tourism Year 2011 committee without new aircraft, it cannot increase its route. "Nepal urgently needs new aircraft," he said, adding that purchase decision should be made as soon a possible not only to boost image of national flag carrier but also to bring in more international tourists.
"There were many committees formed to study and prepare final report for the purchase of new aircraft but none of them was implemented," Shrestha added.
"The NAC should forward its proposal as soon as possible to Cabinet because only the Cabinet can take decision to purchase new aircrafts," he said, adding that the previous deal has also been cancelled at the last moment.
Meanwhile, the corporation has reduced its overdraft to Rs 1.09 billion that is the sign of its improving financial health recently.(Source:THT)