Number of trekkers up on Annapurna route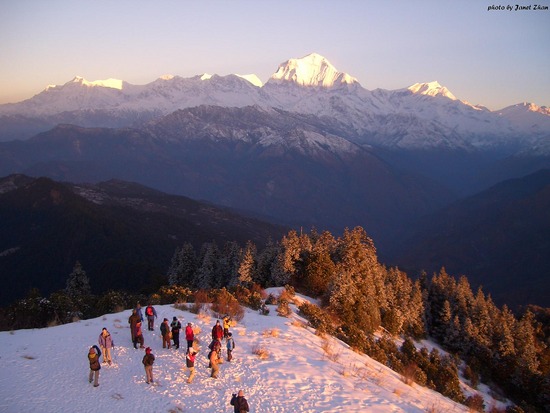 The Annapurna trekking route is seeing a greater inflow of sightseers with the start of the tourist season. The route, regarded as one of world's leading walking trails, is now seeing over 300 tourists daily, up from 200 in September.
According to the Annapurna Conservation Area Project (ACAP) checkpoint at Bhulbhule, 200 tourists used to visit the route daily in September. "Along with the Nepal Tourism Year 2011, the beginning of the tourist season will see more tourists," said ACAP official Brij Gurung. Local hotels along the trekking route including Khudi, Bhulbhule, Nadi, Bahundada, Jagat and Syage have been packed with the tourists from the beginning of October.
As per ACAP statistics, tourist inflow in the Annapurna route has increased 12.54 percent in the first nine months of 2011 compared to the same period last year. A total of 10,159 tourists walked the trail in the period January-September 2011 against 9,019 in the same period in 2010.
According to Gurung, the number has increased also due to the ongoing NTY 2011. Tourists from France, Germany and the US are among the main visitors in the region.
Despite a rise in tourist inflow, the target for NTY 2011 for Lamjung does not look achievable The district has aimed to attract 100,000 tourists in 2011. Hotel entrepreneurs blame the government for its failure to promote tourism in the region besides developing infrastructure required for tourism.
Hotelier Ram Kumar Shrestha said that the slow rise in tourist numbers was a result of the government's apathy towards publicity and infrastructure development. "No efforts have been made towards NTY promotion or infrastructure development," said Shrestha. "Hence, how can we attract tourists?"
ACAP statistics show that a total of 17,404 tourists trekked the Annapurna route in 2010. The region used to attract a large number of tourists till 2001. However, tourist arrivals declined during the Maoist insurgency. Tourism entrepreneurs said that even though tourist arrivals had improved in the last few years, they are far from satisfactory. According to ACAP, about 200,000 visitors have gone trekking on the Annapurna route since 1994. (Source: ekantipur)