Kathmandu-Hetauda fast-track work gains momentum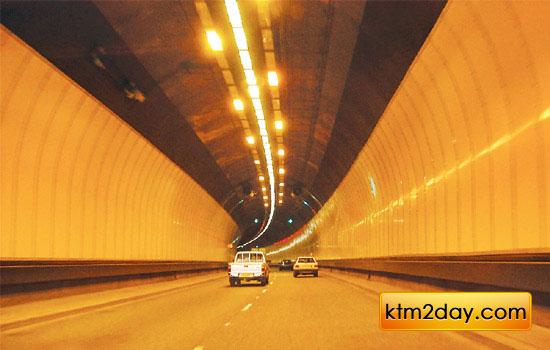 The private sector has accelerated work to construct the Kathmandu-Hetauda Tunnel Highway road as per a new concept—'4P'—where even locals are involved as investors.
The highway is expected to be completed in the next four years with an investment of Rs 20 billion.
The proposed highway under the 4P—private, public, people and partnership sectors—will make travel to Hetauda from Kathmandu a one-hour-drive, while the distance covered will be 50 km. Under the 4P model, locals and the general people will invest Rs 10,000 while businessmen will invest Rs 100,000 each. Local government bodies and interested Nepalis living abroad and banks, too, can invest in the project.
As per the plan, each sector will contribute 25 percent of the total cost of the project. "There will be around 100,000 shareholders and the project will be an example for building big-budget infrastructure in a participatory manner," said Kush Kumar Joshi, the president of the Kathmandu-Hetauda Tunnel Highway Stakeholders' Committee. He was addressing a stakeholders' meeting in Markhu, Makawanpur, on Saturday.
Joshi said they are planning to start work within a month after acquiring the survey licence for the detailed project report (DPR) from the government.
The Nepal Purbadhar Bikas Company Limited has been registered to undertake the highway construction project. The company has a total of 162 promoters, including 86 locals and 76 businessmen representing the private sector. Joshi, who is also the former president of the Federation of Nepalese Chambers of Commerce and Industry (FNCCI) said they have already held consultations with Prime Minister Baburam Bhattarai, the Non-resident Nepalese Association and bankers in this regard.
Currently, people travelling to Hetauda have to take the Tribhuvan Highway route that is a 133-km stretch or the Kathamndu-Mugling-Hetauda section that is 227 km. Traffic on the planned tunnel highway or fast-track is expected to increase by 6,000 vehicles a day. Currently, the Tribuvan Highway sees 200 vehicles travelling to Hetauda every day. Lal Krishna KC, a member of the stakeholders' committee and a highway expert, said they will first build a tunnel having a length of 3.5 km between Bhimphedi and Kulekhani in Makawanpur that can be crossed in three minutes. He said it will cost them around Rs 10 billion for the construction of the tunnel.
It is estimated that the company will start getting profits within 5-8 years of the highway's operation. Once opened, traffic coming from the Western part of the country is also expected to opt the Mugling-Hetauda-Kathmandu route.
Apart from businessmen and locals, Nepali contractors, too, are joining hands to have the project completed. "We will soon begin consultations with international firms for the construction of the tunnel," said Jayaram Lamichhane, the president of Federation of Contractors' Association of Nepal (FCAN). He said the road will be built or widened by Nepali contractors, while the tunnel that needs more expertise will be built in partnership with international firms. (Source:ekantipur)