Prince Harry is all set to climb Mount Everest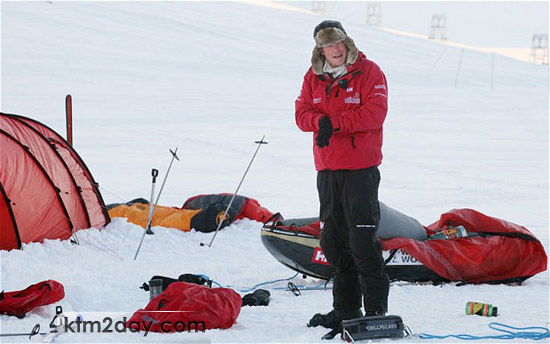 Prince Harry will make good on his promise to the wounded servicemen he joined on their trek to the North Pole to join them on their next challenge – the world's highest mountain .
With the celebrations to to mark his grandmother's diamond jubilee, the Olympics and his first official solo tour taking him to Jamaica, Belize and the Bahamas, the year ahead already looks hectic enough for Prince Harry. The third in line to the throne is, however, adamant that 2012 will also see him realise his long-held ambition to conquer Everest.
The 27-year-old prince dropped a broad hint at the end of his trek to the North Pole last year to raise money for Walking With the Wounded, the charity of which he is patron, that he wanted to join the group of wounded servicemen on their next challenge in May, which will see them climbing the world's highest mountain.
Buckingham Palace has since declined to comment on whether it would be possible to fit the climb into his schedule – "it will all depend on his Army commitments," his spokesman will say only – and there has been no comment, either, from the charity. Now, however, Mollie Hughes, the 21-year-old mountaineer who plans to become the youngest British woman to climb Everest when she makes her own ascent with Kenton Cool in May, and who has been co-ordinating their climb with that of the Walking With the Wounded group, has told Mandrake she has been told that the prince will also be going up.
"He won't be doing the full climb as it will take a long time and it requires rigorous training so I think he'll be joining at a base camp," she tells me. She adds that she is aware of the Walking With the Wounded group's plans as they are planning their climb in the same month as hers and they are expected to be staying at the South Base Camp in Nepal, where the two groups will prepare for the testing conditions on the mountain.
The weather and a range of other factors mean that the Spring – any time between March and May – is reckoned to be the best time to climb Everest.
Happily, the climb does not conflict with any of the prince's existing engagements with his spokesman saying that his first solo official tour has still to be put in his diary.
The prince struck up a quick rapport with the group of wounded servicemen that he joined for four days last April on their successful trip to the North Pole. "I think for me, personally, I'm hugely proud to be a British soldier, to walk alongside these guys," he said. "What these guys have done – and what they will continue to do throughout their lives – is just truly inspirational." He assured them, too, he would see them on their next challenge. (Source:The Telegraph)