Govt hikes import duty on gold, silver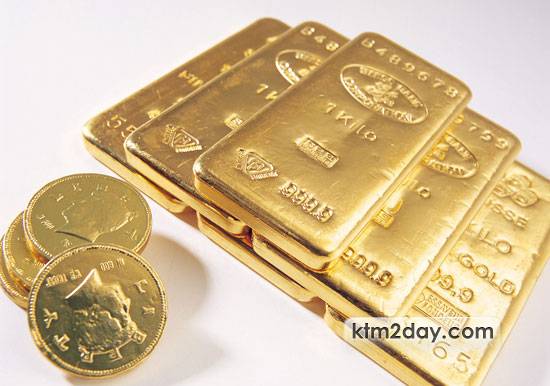 The government on Tuesday hiked the import duty on gold and silver in line with the rise in the duty in India.
A Cabinet meeting decided to raise the duty on the yellow metal to Rs 1,500 from Rs 1,000 per 10 gm, while the duty on silver import has been increased to Rs 4,600 per kg from Rs 2,400 per kg. The new rates are effective from Wednesday.
The Finance Ministry proposed hiking the taxes after India increased the duty on January 17. "The decision is targeted at adjusting the price of the metals and controlling smuggling after India raised the duty," said Krishna Hari Baskota, secretary at the Ministry of Finance. "The duty has been increased so as to maintain the metals' duty structure equal to the Indian market prices."
With the increment in bullion price in India, Nepal Gold and Silver Dealers' Association two weeks ago had requested the government to hike the import duty on gold and silver so as to discourage smuggling of the metals to the Indian market. Tej Ratna Shakya, president of the association, hailed the government's decision. "Now, the government should scrap the quota system imposed on gold import, as there is high risk of illegal import from India due to the shortage here," he added.
Based on the quota system, only commercial banks are allowed to import gold, that too only 15kg per day. Bullion traders say the present import volume does not address the local demand. "Our market demand hovers around 40 kg per day," said Shakya.
With the revision in the import duty, the gold price will now go up by Rs 500 per 10 gm for customers, Shakya said, adding that customers were already paying an additional Rs 700 per 10 gm due to the shortage.
The government imposed the quantitative restriction on gold import, citing the negative balance of payments that lasted for almost two years due to high gold import volume. Nepal had imported gold worth Rs 41.63 billion in the fiscal year 2009-10. The volume came down to Rs 11.35 billion in the last fiscal year after the imposition of the measures.
Initially, the government had allowed commercial banks to import only 10kg gold per day, but increased it to 15kg following traders' demand. The Nepal Rastra Bank's statistics show that the country imported gold worth Rs 9.87 billion in the first five months of the current fiscal year, while the figure was at Rs 1.33 billion during the same period last year.
Gold import

First five months FY 2011-12 Rs 9.87 billion
First five months FY 2010-11 Rs 1.33 billion
First five months FY 2009-10 Rs 25.54 billion
Gold import yearly
====================
FY 2010-11 Rs 11.35 billion
FY 2009-10 Rs 41.63 billion
FY 2008-09 Rs 16.57 billion
(Source:ekantipur)