WiMAX-based high-speed internet project: Nepal Telecom in final preparation stages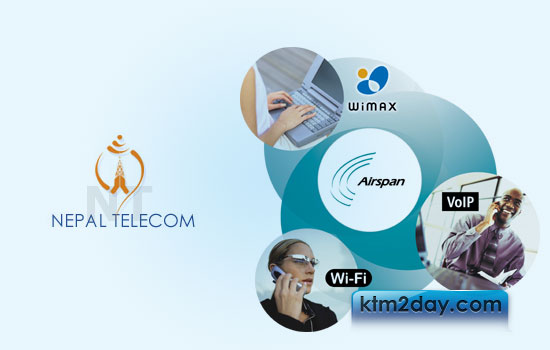 Nepal Telecom (NT) is undergoing final preparations for taking the high-speed broadband internet service based on Worldwide Interoperability for Microwave Access (WiMAX) technology to all village development committees (VDCs).
Recently, the telecom operator approved the proposal submitted by Airspan, a US-based company, for this project.
Airspan is one of the leading vendors of broadband wireless products and solutions. It offers a wide variety of wireless broadband solutions to meet the needs of telecom operators and internet service providers.
A total of four companies, including Airspan, had submitted their proposals for executing this project. Other three companies are ZTE Corporation and Huawei Technologies of China and Indian PointRed.
"We will soon sign an agreement with Airpsan," said NT Managing Director Amar Nath Singh.
The Rs 780-million WiMAX broadband project aims to take the high-speed internet services to all 3,915 VDCs by the end of 2012.
WiMAX is a part of the fourth generation (4G) communication technology that provides high-speed wireless internet service. The WiMAX project will be carried out in two parts. NT will build a network that covers 1,923 VDCs and 24 municipalities in Western part of the country. And, the network to be built in the Eastern part will cover 2,092 VDCs and 34 municipalities.
Although, the technology can also be used for voice service, NT is focusing mainly on the data segment that will have a minimum bandwidth of 256 kbps downlink and uplink.
Nepal Telecommunications Authority (NTA), based on the decision of Radio Frequency Policy Determination Committee under the Ministry of Information and Communications, assigned 30 MHz frequency for the WiMAX technology last year.
The government is also planning to auction WiMAX frequency to a private telecom operator and internet service providers. Based on the floor price set for the auction, NT has already paid Rs 12 million at the rate of Rs 0.4 million per MHz of WiMAX frequency, according to NTA.
"NTA has sought approval from the Ministry of Information and Communications for auctioning WiMAX frequency about two months ago," said NTA Chairman Bhesh Raj Kanel. He added that as soon as they get a go-ahead, NTA would start work to auction the frequency to private operators.
Last year, the committee had decided to assign spectrum to two telecom operators, including NT, and to an internet service provider to provide WiMAX technology-based services. NT received the spectrum without going through the auction process for it being a state-owned company.
An official at the Ministry of Information and Communications said the auction was delayed due to the parliamentary Public Accounts Committee's directive to the government to introduce a new provision on spectrum assignment. "NT has already received the spectrum, but the private sector has to wait for some more time," the official said.
NTA has allocated 2.3 GHz and 3.3 GHz band for WiMAX tech-based voice and data services. According to NTA, the annual fee for the WiMAX spectrum will be Rs 300,000 per MHz for an internet service provider receiving spectrum through auction. Likewise, the charge for telecom operators has been set at Rs 7 million per MHz per year. (Source:ekantipur)