Internet penetration reaches 19.32pc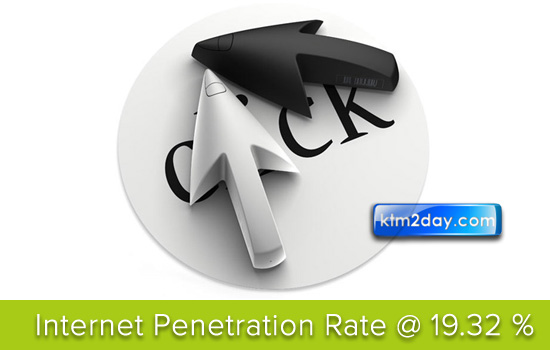 The number of internet subscribers has swelled by 57 percent in the one-year period from mid-Aug 2011 to mid-Aug 2012, pushing the country's internet penetration rate up to 19.32 percent. The growth is catalysed by increased demand for services like GPRS, ADSL, wireless, and optical fibre data services.
As of mid-Aug 2012, the number of data subscribers has reached 5.14 million, with a majority of them using mobile internet, according to the Nepal Telecommunications Authority. The number of the data users was at 3.27 million until mid-Aug last year when the penetration rate was at 11.46 percent.
The growth in the number of data users is attributed to easy access to GPRS service, decreasing tariff, availability of cheaper smartphones and increasing ICT knowledge among the new generation. Even though the growth in overall internet service subscription is high, people are shying away from dial-up data service, which is slow compared to wireless and optical fibre services.
Except for the dial-up category, there has been a double-digit growth in the number of new customers of other categories including GPRS, ADSL, optical fibre, CDMA and wireless internet services.
The launch of new wireless broadband internet—WiMax—by Nepal Telecom (NT) and its upcoming IP-CDMA service are expected take the penetration rate to higher level in the near future. "We will be launching the WiMax targeting the Western part of the country within a month," said Subash Chandra Sah, chief of the NT's WiMax project. He said the wireless broadband service which was initially focused for the corporate clients in Kathmandu Valley would be provided to general customers soon.
As a result of increasing trend of using data on the mobile handsets, 90 percent of the total internet subscribers are GPRS users. NTA statistics show 4.78 million mobile users of Nepal Telecom (NT) and Ncell have subscribed GPRS service. The country's mobile phone user base has increased to 15.62 million.
However, a senior official at the Ministry of Information and Communications said as internet users are counted on the basis of activation of GPRS or subscription of 3G enabled SIM, 'the real picture is not clear'. "There are people who get GPRS activated but do not use it," he said.
Over the review period, NT added more than 16,000 ADSL subscribers, taking its user base to 88,058—up from last year's 71,664. The NTA data show the number of wireless modem and optical fibre data users grew by 85.75 percent to 45,612. However, the number of dial-up users has declined from last year's 20,039 to 19,520 users.