IMF slashes Nepal's growth forecast to 3.8%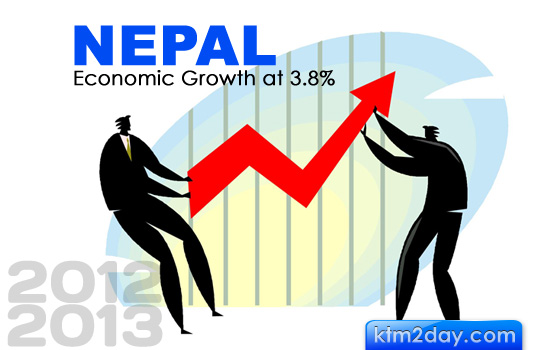 International Monetary Fund (IMF) has projected Nepal's economic growth will drop to 3.8 percent in the current fiscal year 2012-13. The country's Gross Domestic Product expanded at 4.6 percent rate last fiscal year.
According to the IMF, the outlook for 2012-13 is challenging due to a weaker monsoon, and slower services activity as remittance growth may slow. "Spillover effects from declining growth in India (through lower export demand, weaker inward investment, and possibly less remittances), and the dampening effect of continued political uncertainty will also present further challenges to growth in Nepal," states an IMF report released on Monday.
The Government of Nepal has projected a 5.1 percent growth for the current fiscal. IMF's Article IV Consultation Report pointed out that a protracted political transition and stress in the financial sector could also have an effect on Nepal's economic growth.
Economist Bishwombher Pyakuryal termed the IMF's projection 'realistic' given the current political and economic environment. "Agriculture growth will be affected due to poor monsoon and shortage of chemical fertilisers during the paddy plantation season," said Pyakuryal. "Non-agriculture sector is also likely to see a discouraging growth due to power cuts."
As inflation is in upward trend, the IMF predicts prices may rise in line with the projected development in India. The IMF has also shown concern about the government's bankrolling to stated owned enterprises such as Nepal Electricity Authority. In order to address this situation, the IMF has suggested building consensus to gradually adopt an automatic price adjustment mechanism, while putting in place well-targeted subsidies to protect vulnerabilities.