Kate Middleton's First Official Portrait Draws Mixed Reviews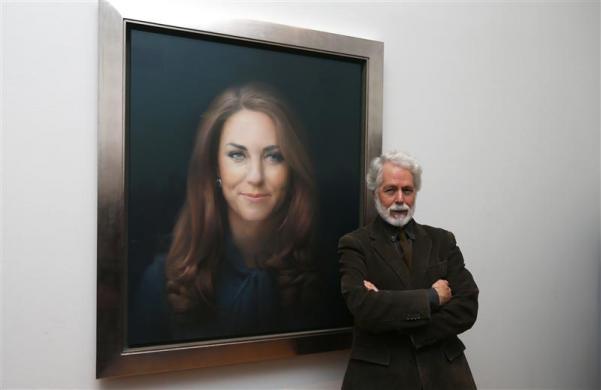 Art critics have given the Duchess of Cambridge's first official portrait a mixed reception.
Kate has been painted with a faint smile and looking out at the viewer from a large canvas created by award-winning artist Paul Emsley.
The portrait, in keeping with the Duchess' wishes, does not portray her official side but the woman known to her family and friends.
Her response to the work after seeing it privately with her husband the Duke of Cambridge was to say: "It's just amazing, I thought it was brilliant." The Duke described it as "absolutely beautiful".
But Emsley's approach to the high-profile royal commission has divided commentators.
Richard Stone, Britain's most prolific royal portrait artist, said the work had captured Kate's evident warmth and approachability.
He said: "I liked it, very much so. So often with official portraits they can be rather stiff and starchy, but this has a lovely informality about it, and a warmth to it."
However, art critic Waldemar Januszczak, who writes for The Sunday Times, said he was "disappointed" by the portrait and that there was a lack of sparkle in Kate's eyes.
He said: "I think she's been let down really by the picture. In the end it's yet another pretty ordinary painting of a royal of the sort that we've been really churning out for the last few hundred years in Britain."
Robin Simon, British Art Journal editor, said simply it was a "rotten portrait".
Talking about how he composed the painting, Emsley said: "In discussions it became clear that what she wanted herself … and that the portrait should convey her natural self as opposed to her official self.
"The fact she is a beautiful woman is for an artist difficult. In the end I think what I tried to do really was to convey something about her warmth and her smile."
Emsley was commissioned by the National Portrait Gallery and was chosen by its director Sandy Nairne following a selection process which involved the Duchess.
The Duchess spoke to the artist at the unveiling
The artist is the 2007 winner of the Gallery's BP Portrait Award competition and is known for his detailed almost photographic portraits which include every detail of the sitter.
His subjects include former South African president Nelson Mandela and the author VS Naipaul.
The Duchess, who is patron of the National Portrait Gallery, held two sittings with the artist in May and June last year at Emsley's studio in Bradford on Avon and at Kensington Palace.
The portrait took almost four months to finish and was presented to the trustees of the gallery at their November meeting.
The work is one of a number of royal paintings that are part of the gallery's collection.