Vouchers worthless as HMV collapses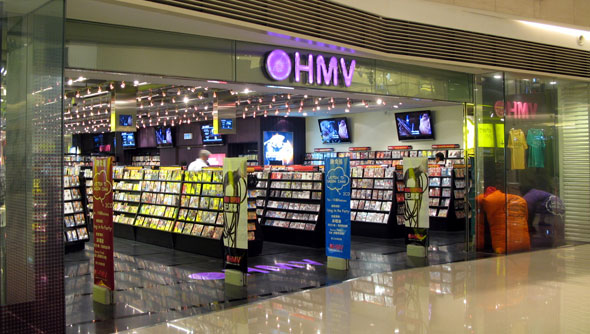 Thousands of people who received HMV gift cards for Christmas just three weeks ago will no longer be able to use them after the ailing music chain collapsed into administration.
More than 4,000 HMV staff will be made redundant in yet another devastating blow for the British high street following the closures of Jessops and Comet and the loss of more than 8,000 jobs.
And today HMV's administrators Deloitte confirmed that consumers would be left out of pocket following the 92-year-old firm's collapse, with vouchers and gift cards becoming worthless overnight.
It is not usual for administrators to honour gift vouchers and they do not normally give refunds for them either.
But experts have started to question why consumers have no rights in this area, and say that urgent change is needed as more former heavyweights of the high street collapse.
Dean Dunham, the founder of youandyourrights.co.uk, said: "We've got to see some changes in this area. It's almost theft.
"A gift voucher should be as good as a banker's draft. You should be guaranteed that you'll either be able to redeem it or
HMV's 238 outlets will remain open while Deloitte attempts to find a buyer for some or all of the business, although it is likely that there will be widespread store closures as a result of the collapse.
Squeezed by internet retailers and supermarkets, whose scale has enabled them to offer CDs and DVDs at cheaper prices, HMV's boss Trevor Moore warned before Christmas that the entertainment group was in trouble.
Mr Moore said the group would fail to meet expectations for the year to April and that it would breach the terms of its loan agreements later this month.
Suppliers including Universal Music came to HMV's rescue in January 2011 with a deal which helped the retailer shed some of its huge debt pile.
But according to the Financial Times, they balked at a request last week from HMV for about £300 million in additional financing to pay off its bank debt and fund an overhaul of the company's business model
HMV sought to diversify into live venues and consumer electronics and was forced to sell off several parts of its business, including the Waterstones book retailer, to reduce its debt pile, while closing loss-making stores.
But Neil Saunders, managing director of retail consultancy Conlumino, said the collapse of HMV was inevitable.
He added: "While many failures of recent times have been, at least in part, driven by the economy, HMV's demise is a structural failure.
"In the digital era where 73.4 per cent of music and film are downloaded or bought online, HMV's business model has simply become increasingly irrelevant and unsustainable."
Back in May last year, when former boss Simon Fox was still in charge, the group said it was looking for pre-tax profits of at least £10 million for the 2012/13 financial year.
His replacement joined the group from camera chain Jessops, which went into administration last week at the cost of 1,370 jobs across its 187 stores.
Mr Dunham urged consumers to fight administrator Deloitte's decision not to honour vouchers and gift cards.
"When Comet went in to administration, the first thing they said was that they wouldn't honour vouchers. There was a massive customer backlash and they changed their minds.
"I would urge people with HMV vouchers to kick up a fuss. They may get a reversal."
A Which? spokeswoman said: "With the increasing number of high street retailers going bust, consumers need to be aware of their rights, particularly regarding warranties and gift vouchers.
"If a store goes into administration it may refuse to accept gift vouchers, though this situation may change. If they do refuse and you need to make a claim, write to the administrators with proof of your vouchers. Unfortunately there is no guarantee that you will get the full value back, and a claim could take some time for the administrators to process.
"If you have bought an extended warranty, check the small print carefully. Often it's provided by a third party in which case you shouldn't be affected. If the cover was provided by a company that has ceased to trade then you would lose the benefit.
"It is also worth remembering that if you've bought items costing more than £100 on a credit card and the supplier goes bust, you can claim a refund by writing to the credit company with details of your claim."