Qatar Airways starts RNP-AR approach at TIA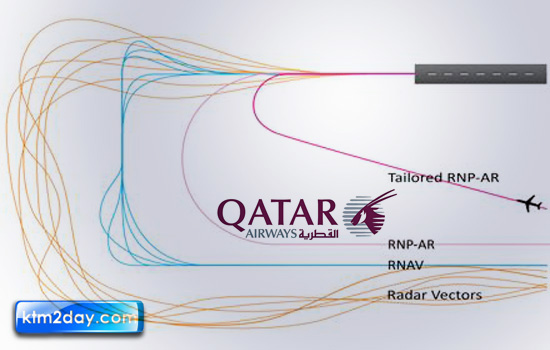 Qatar Airways has implemented the Required Navigation Performance – Authorization Required (RNP-AR) approach at the Tribhuvan International Airport (TIA) that allows aircraft to automatically fly on the accurate route without relying on ground-based navigation aids.
The Doha-based carrier said it has become the first airline in the world to operate an aircraft with the new navigational approach into Nepal utilising the latest aircraft technology.
The carrier had conducted a test flight on RNP-AR in September, 2012.
Flying on the RNP-AR approach reduces pilots' workload considerably and allows them to take full benefit of the advanced navigation equipment installed in aircraft to easily fly around difficult terrain.
It optimises airspace utilisation and reduces diversions in difficult weather conditions. "With a smooth, descent and fully stabilised approach, it leads to significant safety improvements and reduces the required visibility compared with current standard flying procedures," the airline said in a press statement.
The carrier said locked in the Himalayan mountain range, Kathmandu has one of the world's most complicated approaches due to the challenging surrounding terrain.
"We pride ourselves on adopting the latest technology across our fleet and operation to ensure we maintain our high standards, vital for any business of our nature," Qatar Airways CEO Akbar Al Baker said. Qatar Airways has partnered with French procedures designer QUOVADIS, an Airbus-owned company, and the Civil Aviation Authority of Nepal (CAAN) to design and implement the Kathmandu RNP-AR procedure.
Ratish Chandra Lal Suman, general manager at the TIA, said Qatar Airways will operate all its flights under the new system. Currently, the airline operates four flights a day between Doha and Kathmandu. "Any airlines with the latest aircraft technology can apply to CAAN to operate their flights under the new procedure," he said.