Mechi-Mahakali railway project report prepared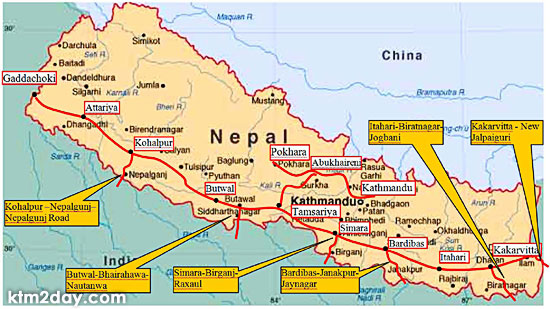 The government has kept the construction of the Mechi-Mahakali Railway in high priority considering the inevitability of the reliable development of roadway and railway for attaining long-term socio-economic prosperity in the country.
The Department of Railways says that the detailed project report (DPR) of the 135- kilometer Bardibas- Simara-Birgunj sector of the railway line has been completed in that connection.
Similarly, the Department has begun works on appointment of the consultant for and preparing the DPR of the 223-kilometre Simara-Butwal-Bhairahawa sector of the railway. It has also begun works on preparing the model of the railway.
Director General of the Department, Yogendra Rai, said that the government has moved ahead the works related to the Mechi-Mahakli Railway project by attaching high priority to it. The project would be constructed with the grant assistance of the Government of India.
The Department has already called for the Expression of Intent for the construction of the railway track.
Although the country presently has 53 kilometres of rail track, the narrow gauge trains are currently operational only on the 32-kilometres Janakpur-Jayanagar route.
It is said that this ambitious 1,318-kilometre Mechi-Mahakali Railway Project would cost at least Rs. 800 billion. As per the government plan, another 185-kilometre rail track would be constructed from Kathmandu to the tourist city Pokhara.
The government plans to construct the Mechi-Mahakali Railway Project under the public-private partnership model. – See more at: http://thehimalayantimes.com/fullNews.php?headline=Mechi-Mahakali+railway+project+report+prepared&NewsID=367711#sthash.6NmjVoga.dpuf