Three firms vie for two cable car projects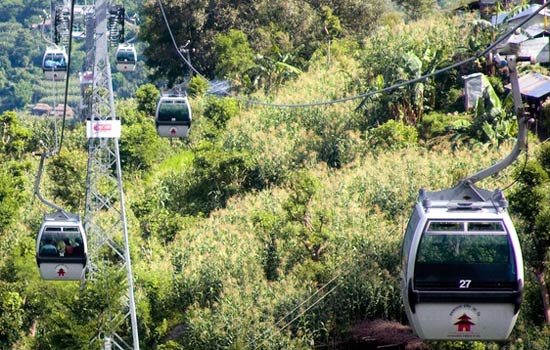 Three firms have submitted their Expression of Interest (EoI) for the development and management of two cable car projects in Taplegunj and Pyuthan under the Public Private Partnership (PPP) model.
The Tourism Ministry had sought EoI from domestic and international developers or their joint ventures (JV) to execute the projects at two religious locations — Pathibhara in Taplegunj and Swargadwari in Pyuthan — in a bid to promote pilgrimage tourism.
The two applicants include a joint-venture between Lama Construction, United Builders and Engineers and Shahiba International; and Laxmi Intercontinental which includes France-based Pomagalsky SAS and CM/CRC developers.
Prakash Bahadur Raghubanshi, project manager at the Tourism Infrastructure Development Project, said the government will shortlist a firm after evaluating their technical and financial capabilities. It will then invite request for proposal (RFP) from shortlisted firms after studying their EoIs.
Pathibhara in the Eastern region is popular for Pathibhara Devi temple. It is located 3,800 metres above the sea level. Apart from Nepalis, it also attracts a large numbers of visitors from Bhutan and Sikkim and Darjeeling of India. Besides, a magnificent view of Kanchenjunga Range is the place's major attraction.
According to a pre-feasibility study conducted by the government, the planned cable car from Mathilo Phedi to Pathibhara stretches 3km and is expected to cost around Rs 700 million (excluding land acquisition costs).
Swargadwari in the Western region is popular for a hilltop temple, which is named among Nepal's top pilgrimage sites and is listed on the national inventory of cultural and historic heritage sites. It is located 2,100 metres above sea level. The proposed 2.5-km cable car from Mathilo Bhingii to Swargadwari is estimated to cost Rs 600 million (excluding land acquisition costs).
According to Raghubanshi, the government had initially planned to develop both the projects under the Build, Own and Operate (BOO) model as per the Private Financing on Build and Operation of Infrastructure Act 2063, which provisions that the government can hand over a project to the private sector for at least 30 years. "Based on their investment, the government will decide for how long the developer can run the projects."
The government has already invited RFPs to develop and manage a long planned cable car service in Pokhara under the build-operate-transfer model. The Ministry of Physical Planning, Works and Transport Management has shortlisted three joint-venture (JV) consortiums for submission of RFPs after studying EoIs.
The three groups are Lama Construction, United Builders and Engineers and Shahiba International; Laxmi International, Sujal Foods and France's Pomagalski SAS Exclusivity Co-operation; and Manakamana Darshan Chitwan Co-E and Austria's Doppelmayr. The government plans to build a 1.5-km cable car service from Phewa Lake to the World Peace Stupa, Pumdi Bhumdi.