New Baneshwor Flyover plan fails to take off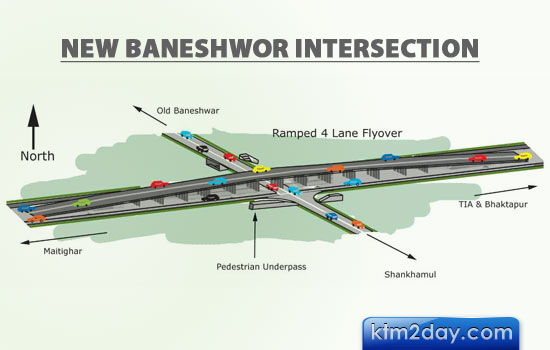 The government's much-talked-about plan to build a ramped flyover at the New Baneshwor junction to ease traffic movement has failed to take off this fiscal year too. Work to this effect hit rough weather after indecision on design and length.
As per the original plan, the government was supposed to call a tender and start construction of the 90-m long (excluding ramp) and 17-m wide four-lane flyover from Bijuli Bazaar to Tinkune in last fiscal year. A fund of Rs 50 million was provided to the Department of Roads, the implementing agency, this year to begin the work.
"We could not work on the flyover plan as there was no final decision regarding the design and length," said a high-level official at the department. The official said the Ministry of Physical Infrastructure and Transport changed the original idea and asked to go for a 30-m long flyover or a four-lane road at the lower level than the existing west-east road from Everest Hotel to International Convention Centre.
The idea of the lower-level road and shorter flyover is to save investment, according to the Physical Infrastructure Ministry. The originally proposed 90-m long flyover was estimated to cost around Rs 600 million. However, the new idea failed to convince some top road department officials, and the consultant also said plan "is not good in terms of road safety". Soil Test and Aviyaan Consulting, the consultant hired by the government, had suggested building a flyover at the New Baneshwor junction as the best solution to keep the intersection congestion-free for the next 20 years. The intersection is the busiest in Kathmandu with 115,000 vehicles and 55,000 pedestrians crossing it daily.
Physical Planning Ministry officials said they are still undecided whether to build a 90-m long flyover, a 30-m one or a lower-level four-lane express road. The ministry has also urged the Finance Ministry to allocate budget under a separate heading for the flyover project to start work from the next fiscal year. Under its flyover plan, the government has also been planning to build a 3.5-km flyover linking Maitighar-Tripureshwor-Kalimati junctions for motor traffic coming from Kalanki on the western side of the valley towards the airport and Arniko Highway. Although it had also planned to build a flyover or underpass at the Old Baneshwor junction, the plan was cancelled after opposition from locals.
When asked about the flyover plans, Saroj Pradhan, senior divisional engineer of the road department and former chief of the flyover project, said there is a drastic need of an improved crossing system for vehicles' movement at New Baneshwor. He said when building infrastructure like flyover, their impact on nearby junctions should also be analysed for smooth operation of vehicles.